Penguin Passport
A Once in a Lifetime Penguin Encounter
Get Closer to our Colony of Penguins
Experience an on-the-ice encounter like no other, as you venture into the world's largest sub-Antarctic penguin colony display with Penguin Passport!
For the first time ever in New Zealand, we're giving our visitors the opportunity to experience an intimate on-the-ice encounter with our amazing penguins.
Penguin Passport allows visitors to explore the wonderful snow-filled penguin enclosure and the opportunity to get up close and personal with the magnificent King and Gentoo Penguins. Visitors will enjoy a private Q&A session with an experienced Penguin Keeper as part of the experience. Photos of your experience are taken while you are on the ice, and are included in the price.
Book this experience for a specific date now or purchase an experience gift voucher valid for 12 months.
Penguin Passport
Penguin Passport runs at 10:30am every Friday, Saturday and Sunday. Maximum of 4 participants per session. Spots fill quickly; book early to avoid missing out on this incredible experience!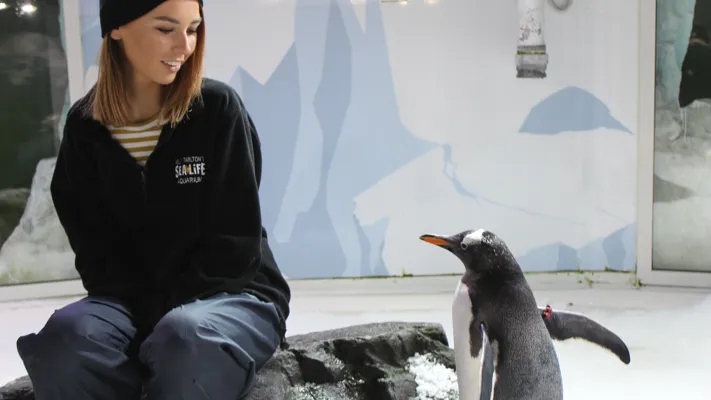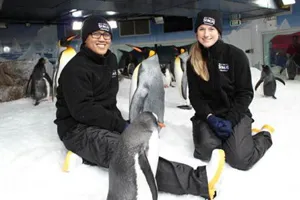 What's Included?
AGES 14+
A 60 minute unique experience
Go behind the scenes and learn how we take care of our King and Gentoo Penguins
Suit up in our snow gear and go on the ice with the colony in their habitat
Photos of your experience
All day admission to explore SEA LIFE Kelly Tarlton's included
Book this experience for a specific date now or purchase a Penguin Passport gift voucher valid for 12 months.
Important Information
You will be asked to complete a Penguin Passport declaration form on arrival. This will include the following:
Are you 14 years or older?
Have you been in contact with birds in the last 24 hours?
Are you able to navigate stairs?
Have you suffered from Flu/Cold/Gastro/Respiration infection in the last 48 hours?
Do you understand that no jewellery, watches, mobile phone or cameras can be taken on the tour? 
If you are in the 3rd trimester of your pregnancy, you cannot join the experience.
Tour times and days are subject to change, for the most up-to-date information contact us on operations@kellytarltons.co.nz.
Book your Penguin Encounter
This experience includes all day aquarium admission. Book online and save up to $40 on walk up price!
If you have an open-dated ticket or voucher that you would like to book - please contact us via email at operations@kellytarltons.co.nz
Annual Pass Member's Benefit
Did you know you can participate in this unique experience from just $119? That is a huge 40% discount!
Become a Kelly Tarlton's Annual Pass member to take advantage of this huge discount.
Find out more about Kelly Tarlton's Annual Pass benefits.
FAQs
This is an intimate experience with only 4 people per group, sessions often book out in advance. To avoid missing out, we recommend booking online.
You must be 14 years or older for our penguin experience. Children under 18 must be accompanied by a parent or guardian.
The booking time is the session start time.  We operate Penguin Passport Encounter at 10.30am on Friday, Saturday and Sunday.
You should arrive at least 20 minutes prior to your session start time to get ready for the experience.  We are usually very busy during school holidays, we recommend that you aim to arrive at least 30 minutes prior to session start time.
Come through our Main Entrance and let our Admissions staff know your booking number. If you have a Gift Voucher or a third party voucher, please ensure to present it with a Shark Cage time slot booking number.
Yes, your Penguin Passport ticket includes all day entry to the aquarium. You are welcome to stay for as long as you wish.
This ticket is non-refundable.
Date changes are not permitted 3 days or less before the booked experience.
Date changes are possible 4 or more days before the booked experience subject to availability, with notice in writing to operations@kellytarltons.co.nz.
Transfers to friends/family members possible as long as friend/family member meets participation criteria.
All snow gear including jacket, waterproof pants, beanie, gloves and boots are included. Please ensure to bring your own socks and don't wear dresses/skirts.
Spectators are welcomed. However, since all child (3-15yrs) must be supervised by an adult at all times, you will need to arrange an adult to be with your child if you are going to be in the penguin enclosure.
I went on the penguin encounter tour, and it was one of the highlights of our 5 week NZ vacation. There are 2 biologists telling you about the penguins, which walk right up to you. One tried to crawl in my lap, and I played with several with dog toys that they enjoy. A very memorable experience!
We weren't allowed to touch them, however, penguins are very curious and came to us. They have a photographer on the ice with you to take pictures of you with the penguins, and the photographer was in perfect position to capture of picture of the penguin kissing me on the cheek (or that is what it looks like in the picture). I love that picture!
It was amazing getting to go in to their habitat with one of the penguin handlers and see the penguins close up. I absolutely loved it. The penguins would come up to the group while someone was holding one of the toys and we'd get to play with them. My sister who went with me and I had a great time
Hi Amy and Jessica,

Thank you so much for sending the photos. I can't thank you enough for allowing us to get up close and personal with your penguins. So close that I got a nip on the leg from Nigel! Absolutely incredible experience, to say experience of a lifetime doesn't come close to summing it up. You girls are so knowledgeable, thank you for sharing some of that with us. You're both brilliant!
Mike & partner (via email)