Donation and Sponsorship Requests
Supporting our local community in Aotearoa
Community Support Policy
Here at SEA LIFE we care deeply about our oceans, the creatures that live above and beneath the surface and those we are lucky enough to have in our care. We aim to inspire our visitors to care as much as we do and help raise awareness of the critical importance of our oceans. We extend these values of conservation and education to our community and may contribute tickets to not-for-profit organisations.
Community Support Guidelines
SEA LIFE Kelly Tarlton's Aquarium will review each donation request and may contribute tickets to not-for-profit organisations based on the following guidelines:
The request must be made by an organisation that is endorsed by the New Zealand Inland Revenue as a charity, not-for-profits organisation, or Primary School, whose goal is to academically and creatively enrich the lives of children aged 3-12
If allocation of tickets is exhausted, organisations can re-apply in following months
Organisations will only be able to receive one donation per year
Email addresses will be added to SEA LIFE Kelly Tarlton's database
Please note that eligibility does not guarantee your donation request will be fulfilled
We aim to support the wider community and positively contribute to as many organisations as we can. Due to the overwhelming number of inquiries we are unable to respond to and fulfill every request. There are many worthy children's organisations that deserve support, but unfortunately it is not possible for us to support all of them.
Based on our donation criteria, we do not donate to:
Individuals
Incentive programs
Religious or political purposes
Organisations whose programs, policies, activities, goals or causes may reflect negatively on our company
High school or college programs
Sports teams
Social groups
Groups that do not reach the wider community
Compassionate Donations
In addition to the above, SEA LIFE Kelly Tarlton's may exclude any application from consideration for any reasons we considers relevant in our sole discretion.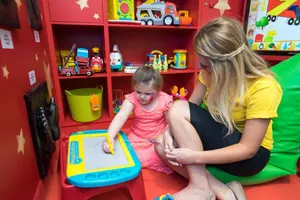 Merlin's Magic Wand
SEA LIFE Kelly Tarlton's is a part of Merlin's Magic Wand, a charity that helps put the magic back into the lives of disadvantaged children! It's very easy to apply via the link below for a magical day out, care of Merlin's Magic Wand.
Find out more