Dive into the Underwater World!
Here at SEA LIFE Kelly Tarlton's our full educational range is on offer which includes classroom sessions and self-directed visits.   
You can send a booking enquiry online, book your trip directly via our online portal or email our education team via learn@kellytarltons.co.nz to secure your excursion with us today! Visit our booking information page for 3 easy ways to book your next excursion!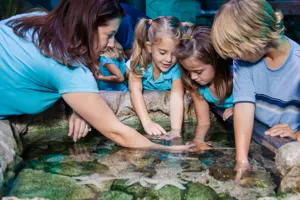 Learn with SEA LIFE!
We have something fun and inspirational for all ages!
In addition to our amazing aquarium experience, we work closely with schools to develop information that engages and inspires young people. Self-directed visits as well as curriculum-linked classroom sessions and even sleepovers are available for schools, and we give daily creature presentations for groups to watch and enjoy as well.
From Turtle Rescue to our famous Shark Tunnel to 'Amazing Creations' where your students drawing come to life, we allow students (and teachers alike!) to dive deeper into the underwater world of the marine creatures they meet throughout their visit. Throughout the year, we host a program of fun educational events, like Plastic Free July and Sea Week, to raise awareness of marine conservation issues.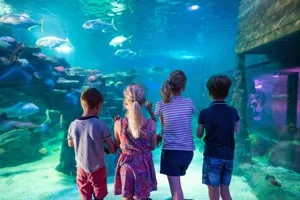 So much to explore!
From marine to freshwater, sub-Antarctic to tropical – our zones include:
Antarctic Ice Adventure with the largest colony of penguins on display in the Southern Hemisphere, and a replica of the historic Scott's Hut.
Turtle Bay featuring the current residents of New Zealand's one and only turtle hospital!
Shipwreck Shores – an unforgettable play area where you really can find Nemo.
Shark Alley and Shipwreck Discovery showcasing thousands of native marine animals.
Sea Cave Adventure showcases some of the marine life from our Hauraki Gulf Marine Park. 
Seahorse Kingdom, including sea dragons that cannot be seen on display anywhere else in the world.
Two ways to explore and learn!
There are two ways to explore SEA LIFE Kelly Tarlton's with your school group - self-directed, classroom session. You can learn more about these options on the 'plan your excursion' page.
Our classroom sessions are also tailored to suit the needs of each stage of learning and development, see below for the options for each age and stage.
Free School Resources!
Your students can explore the magic of the underwater world from the comfort of your classroom! Whether you're preparing for an excursion, or just want to learn more about marine life - our VIRTUAL aquarium has something for everyone!
With worksheets, posters, craft ideas, videos, and more - dive into the underwater world today!
Dive in here!
Don't miss out on even more FREE teacher resources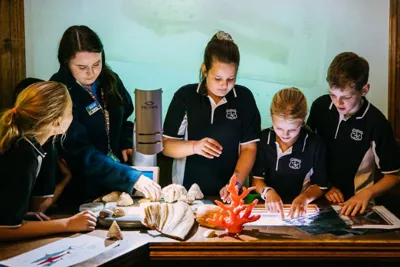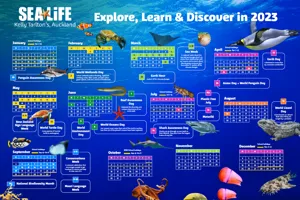 FREE 2023 Calendar for Schools
A quick and easy reference for celebrated days such as World Oceans Day, World Environment Day and more. Plus a great tool for booking your next excursion to SEA LIFE Kelly Tarlton's!
Download now