3 ways to explore
Combine active, hands-on learning with fascinating educational talks and an opportunity to have an up-close and personal view into our amazing aquatic world for your ultimate school trip at SEA LIFE Kelly Tarlton's Aquarium!
Found out for yourself how much a trip to SEA LIFE Kelly Tarlton's has to offer your students. Travel back in time to the age of Antarctic exploration, get up close to the largest colony of sub-Antarctic penguins on display in the Southern Hemisphere, and discover the jaw-some world of sharks and rays in the worlds' first aquarium tunnel. There is something amazing to discover at every turn!
All visits include all-day admission to Kelly Tarlton's – there are 3 ways to explore:
Self-directed visit: fancy taking your time and going at your own pace? Conduct a self-directed tour around our attraction. Take advantage of our free online resources (including worksheets and teacher notes) and daily presentations to add even more to your visit.
Classroom session: take an in-depth look into your chosen study topic with one of our marine biologists. This classroom session involves a lesson as well as the chance for students to handle marine artefacts and have a discussion with an expert!
Semi-guided tours: take a stroll with one of our marine biologists to introduce you to a few of our residents! This tour takes you into our attraction and through the seahorse kingdom, fish gallery, shark and fish tunnel ending in turtle bay. Based on the educational theme of your choice these are a great way to engage your students in learning about the marine environment.
Be sure to book in early for the classroom sessions and semi-guided tours – spaces are limited! To explore the topics available for our semi-guided tours select your school level below:
General Excursion Information
The Aquarium is open from 9.30am to 5.00pm Monday, Thursday and Friday for school visits with last admissions STRICTLY 4.00pm.  School visits can be arranged on Tuesday and Wednesday during school terms by arrangement (subject to availability and minimum numbers apply), please contact our Education team to discuss.
School buses are not permitted to enter the SEA LIFE Kelly Tarlton's carpark in the daytime. Unless specifically told otherwise, your bus stop for drop-off and pickup is located between SEA LIFE Kelly Tarlton's Aquarium and Mantell's Functions Venue, 19 Tamaki Drive (the old Hammerheads Restaurant). All self-directed visits must enter the aquarium through the main entrance. Classroom sessions and semi-guided tours should head to the EXIT building.
Payment is made on the day by credit card or EFTPOS only (Note: cash and cheques are no longer accepted). Only one payment is accepted for the bookings (individual payments and memberships not valid for school bookings).
Prepayment or invoicing payment methods are available, but this must be arranged with the education office no later than one week in advance.
SEA LIFE Kelly Tarlton's offers all registered teachers a complimentary pre-visit scout ticket to help you better plan your excursion. In order to receive your complimentary entry to the aquarium, please complete the enquiry form on our complimentary pre-visit tickets page at least 4 business days in advance. You must bring a valid teacher's registration and photo ID for entry.
We place the utmost importance on the health and safety of our guests and as such encourage you to review our new health and safety measures that have been recently implemented to reduce the risk associated with COVID-19. These measures are in line with government and local health authority advice. 
Excursion Pricing
Excursion Type

2022 Prices
2023 Prices
Preschool Self-directed visits
$13.00
$15.00
Preschool Classroom Session
$15.50
$17.50
Self-Directed Visits - Low Decile Schools
$11.50
$13.50
Self-Directed Visits - All Other Schools
$13.00
$15.00
Self-Directed Visits - Vacation Care Groups
$16.00
$18.00
Self-Directed Visits - Language Schools & Tertiary Groups
$18.00
$20.00
Classroom Sessions & Semi-Guided - Schools
$16.00
$18.00
Classroom Sessions & Semi-Guided - Tertiary
$21.00
$23.00
Free Teacher/Carer Ratios
Free Teacher/Carer Ratios

Preschools - 1:3

Schools - 1:6

Special Needs Groups - 1:1

Language Schools - 1:10

Additional Adult Tickets
$32.00 
$32.00
Book Now
Free School Resources!
Your students can explore the magic of the underwater world from the comfort of your classroom! Whether you're preparing for an excursion, or just want to learn more about marine life - our VIRTUAL aquarium has something for everyone!
With worksheets, posters, craft ideas, videos, and more - dive into the underwater world today!
Dive in here!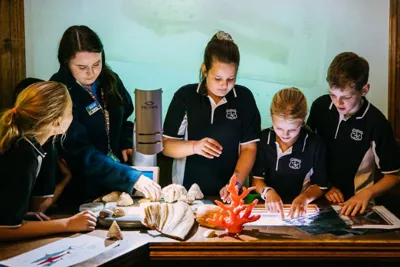 Don't miss out on even more FREE teacher resources
FREE 2022 Calendar for Schools
A quick and easy reference for celebrated days such as World Oceans Day, World Environment Day and more. Plus a great tool for booking your next excursion to SEA LIFE Kelly Tarlton's!
Download now