Join us for a magical underwater sleepover where you and your students can exclusively experience SEA LIFE Kelly Tarlton's Aquarium after the sun goes down. Your students will LOVE seeing their favourite marine animals in a whole new light!
Your Underwater Sleepover hosts will give a fascinating guided talk and tour through the attraction (including an exclusive behind-the-scenes tour where students will get the chance to feed our fish a night-time snack!) before everyone takes part in our 'tunnels-by-torchlight' experience to see what the fish get up to after dark. Nicely tired after an exciting evening, students and teachers alike can lie back and watch the sharks and fish swim overhead as they nod off to a night of oceanic slumber.
Our sleepovers are based on a camping-style atmosphere present during early Antarctic exploration, so sleeping bags and mats are a must! Overlooking beautiful views of the Auckland harbour and city, breakfast is served in Turtle Bay.
Your amazing night at the Aquarium is an experience you and your students will remember for life! At just $70 per person, the Underwater Sleepover is Auckland's best value (and most fun!) overnight stay. For every 6 children, one adult supervisor is FREE*!
*Groups are only eligible for free adult supervisors once the minimum number requirement of 42 is met.
Ready to dive in? Visit our booking page to immerse your students in our fin-tastic Underwater Sleepover experience. Alternatively, you can email learn@kellytarltons.co.nz.
Book Now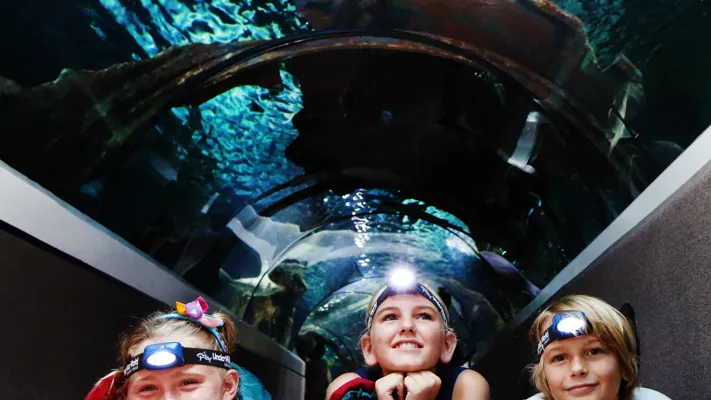 Sleepover Pricing
Excursion Type

2023 Prices
School Sleepover
$70.00
Free Teacher/Supervisor Ratios

1:6

*Groups are only eligible for free adult supervisors once the minimum number requirement of 42 is met.
Sleepover FAQs
Primary, intermediate and secondary school groups.
Scout and guide groups
Other community and educational groups
Note: Children must be between the ages of 5-17 years old inclusive. Not suitable for children 0-4 years old.
The Underwater Sleepover takes place in the Shark and Fish tunnels at SEA LIFE Kelly Tarlton's Aquarium. Children and adults all sleep in the same area on the floor. Mattresses are not supplied. 
The minimum number of participants required for an Underwater Sleepover is 42 and the maximum capacity is 70 (inclusive of children and adult supervisors). You may have fewer participants. However, the minimum charge will be for 42 people.
Dinner: Not provided. Please ensure your students and staff eat prior to arrival.
Supper:
Juice
Chocolate chip cookies
Breakfast includes:
Toast
Spreads
Cereal
Yoghurt
Fruits
Hot drinks i.e. tea, coffee, hot chocolate.
Special Dietary Requirements: we will endeavour to meet, where possible, any medical dietary requirements. Please confirm these requirements one week prior to arrival so that we can ensure that we can cater. Email learn@kellytarltons.co.nz to discuss options.
If your group is from out of town or you need to arrange a group dinner prior to your Sleepover.  Contact Auckland Rose Park Hotel who will be happy to discuss dinner options. 
They are located at Parnell which is about 5 minutes drive away from SEA LIFE Kelly Tarlton's.
Arrival time is 7.00 P.M. and finish time is 9:00 A.M. the following day. An example itinerary is outlined below. 
7:00 P.M. - Arrival and hosted talk
7.30 P.M. - Explore Scotts Hut 
8.00 P.M. - Supper
8.30 P.M. - Explorer the Shark Tunnel, Fish Gallery and Seahorse Kingdom
8.45 P.M. - Behind the Scenes tour and fish feeding
9.15 P.M. - Safety briefing and "Tunnels by Torchlight"
9.30 P.M. - Set up beds and lights out
7.00 A.M. - Wake up and pack gear
7:30 A.M. - Breakfast 
8.00 A.M. - Penguin viewing
8:30 A.M. - Goodbye video of 'The Making of Kelly Tarlton's Aquarium'
9:00 A.M. - Leave aquarium
9:30 A.M. - Aquarium open to the public
If you need to alter these times, you can discuss this when making your booking. Please email us
Unfortunately there are no showers available for the Underwater Sleepover, only toilet facilities.
Click here for the Sleepover gear requirements.
Things to bring:

Sleeping mat, sleeping bag and any other sleeping gear.
Pillow
Pyjamas – tracksuits are a good idea
Appropriate clothing
Torch with red cellophane covering the light
Covered shoes
Toiletries and medications – including a face cloth (Please note that while we do have toilets and hand basins for cleaning teeth etc., we do not provide showers).
Refillable water bottle (can be refilled onsite)
Group leader: list of all attendees and their emergency contacts
Adults may wish to bring earplug and eye masks if they are light sleepers

Things to leave at home:

Camera with a flash on the night walk
Laser lights and torches that may blind our fish
Radios
Whistles
Balloons
Balls
Frisbees
Hacky sacs or throwing games.
Alcohol (alcohol is not permitted on an Underwater Sleepover).
Yes, please bring your torch for the night walk. All torches must be covered in red cellophane.
No, all Underwater Sleepovers are strictly non-alcoholic. Alcohol and/or illegal drugs are not permitted on the premises by any member of the group. Or anything illegal or of dangerous nature which could cause damage to the SEA LIFE Kelly Tarlton's Aquarium's buildings or other facilities, or affect the health and safety of any person or animal on the premises.
If you want a function, which includes alcohol and a guided talk, you will need to book a private function through the events department (email: learn@kellytarltons.co.nz).