Meet Taka the Turtle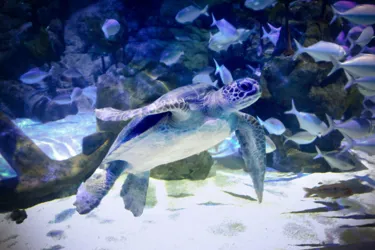 After four weeks of successful rehabilitation behind the scenes, Taka was finally ready to move into Turtle Bay for the next stage of its recovery this week. Taka has been recovering from exhaustion, dehydration and low body temperature in our Turtle Rehabilitation Centre after it was initially rescued by the Department of Conservation and checked over by Auckland Zoo's specialist vet team in May of this year.
"Taka will continue its recovery in Turtle Bay, where it is swimming alongside two other rescued sea turtles. If all goes well, our aim is to return the three turtles back to their home early next year when the ocean is at its warmest and we can be confident about their survival in the wild," said Maddy Seaman, Displays Manager at SEA LIFE Kelly Tarlton's.
Eastern Pacific green turtles are also referred to as black sea turtles and native to waters near Costa Rica and the Galápagos Islands, which means Taka is a long way from home! This species is classified as endangered, with populations decreasing due to overfishing and plastic pollution.
Did you know that Kelly Tarlton's is New Zealand's only turtle rehabilitation facility? The team has cared for more than 100 turtles over the past 20 years together with the Department of Conservation and contracted vets from Auckland Zoo.
During the school holidays from 4 July – 19 July 2020, SEA LIFE Kelly Tarlton's will be open seven days per week from 9:30am – 5pm (last entry 4pm). Book your tickets  in advance to receive a 20% discount. 
SEA LIFE Kelly Tarlton's is also participating in Plastic Free July 2020 with a virtual competition for schools to win a free excursion and 20% off Cheeki reusable drink bottles in the gift shop. Email learn@kellytarltons.co.nz for more info on the virtual competition.