Meet Our Penguin Keeper - Jess
Monday 14th September 2020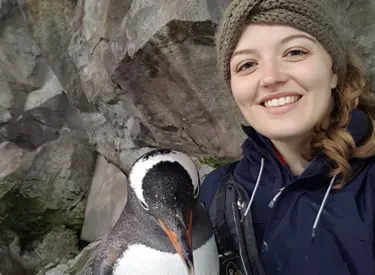 Q: What is it like being a Penguin Keeper?
A: It's absolutely awesome. The great thing about working with animals is that everyday is different, and penguins in particular have so much character! You never quite know what mischief they'll get up to. It is also a lot of early starts, cleaning, and hard work but it is 100% worth it for the relationships you get to build with the birds.


Q: What sort of qualifications do you need?  Do you need a degree in Marine Biology/Zoology?
A: There are quite a few different paths you can take to end up as a zoo keeper. I have a Bachelor's degree in Biological Sciences which I followed up with a certificate in Captive Wild Animal Management. A relevant degree is definitely helpful (biology, zoology, marine biology, etc) but equally important is having hands on experience with animals! Volunteering at your local animal shelter or zoo are awesome ways to start out - you get some experience, and get to figure out if zoo keeping really is for you. I started out volunteering in my final year of university at NZ Bird Rescue and Auckland Zoo, and it's a great way to get involved and learn from experienced staff.

Q: What's your favourite part of the job?
A: By far my favourite part of the job is getting the opportunity to work with such unique, charismatic birds and be a part of their lives. There aren't too many jobs you get to hang out with penguins all day. I genuinely look forward to going to work everyday, and know I am very lucky to be in this position.


Q: What's the worst part of the job?
A: The worst part of the job is when one of the penguins gets sick! It doesn't happen often, but when it does it's really hard because they can't tell us what the problem is. We form such close bonds with all the birds, so it's awful to see them at anything less than 100%.


Q: Which is your favourite penguin?
A: This totally depends on the week for me! At the moment it would have to be Dobby, he's usually one my top contenders for the "favourite" but he has been particularly sweet the past couple of weeks and has taken some time away from building his nest to come hang out on my boots and sing.