This Auckland Kids Activity Will Teach Life Lessons
Thursday 18th October 2018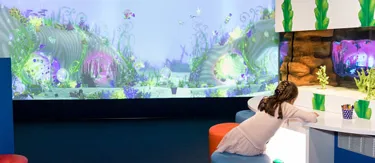 It is rare to find a child who doesn't absolutely love animals. Most kids would be thrilled with a trip to an aquarium and the opportunity to get up close to an array of marine life! But, did you know that an aquarium is not only a place of fun and adventure for kids, it's also filled with many great opportunities for learning? Here's a look at what a trip to the aquarium can teach your kids…
Critical Thinking Skills
Children are naturally curious and programmed to ask "Why?". The aquarium is a great place to encourage this behaviour to promote learning. As your child discovers new creatures encourage them to ask why that fish is behaving a certain way or question what they're reading on the creature information next to the habitat. Asking "Why?" will help your child to analyse the facts they've read and what they can see. This will help them become a more critical thinker.
Sustainable Attitudes
At SEA LIFE Kelly Tarlton's, conservation and sustainability are at the centre of everything we do. We strive to inspire all of our visitors, both young and old, to love and care for our oceans and the creatures that live within them. Throughout our aquarium, you and your child will find simple ideas that will help you both protect our aquatic environments. Try pointing these ideas out to your little one and encourage them to get excited about how they can help look after the animals they see during their visit.
Responsibility
There are many opportunities for children to learn about all that goes into running an aquarium like ours during their visit. Catch a feed or talk time to learn about how we take care of specific marine creatures or go on a Behind the Scenes Tour where they'll see the inner workings of an aquarium. They will learn how much responsibility is involved in running a world class aquarium that keeps its creatures happy and healthy.
Confidence
At our Discovery Rock Pool there's opportunities to touch and feel an array of marine life including sea stars and shark eggs. For some little ones this could be a little scary at first, but if they're brave enough to take part it will also be an exhilarating and self-confidence building experience for them.
 So, if you're looking for an educational kids activity that will help your kids develop their little minds, all while having a fun-filled great time, you'll love a trip to SEA LIFE Kelly Tarlton's. Book your tickets online in advance and save up to 10%!