Turtle Rescue
Wednesday 22nd November 2017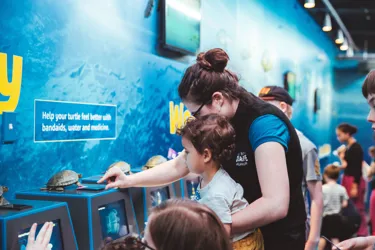 Turtle Rescue is an all-new interactive journey at the world-class attraction. Guests of all ages are encouraged to become a turtle care expert as travel on a real-life journey to understand what is involved in successfully rehabilitating a turtle. Upon entry into the experience, Turtle Rescue will turn guests into bonafide turtle rescuers, receiving an alert urging them to rescue a virtual turtle and instructions on how to nurse it back to health. Once the turtle has been successfully rehabilitated, the turtle is ready to be released back into wild guided by their rescuer into the waters around New Zealand.
Sea Life Kelly Tarlton's Auckland, General Manager, Daniel Henderson, said the new experience aims to educate Kiwis on rescuing and rehabilitating turtles - something that is synonymous with the attraction, which has rescued over 100 turtles!
"The inspiration behind Turtle Rescue was to create an experience which not only educated the public on the journey behind turtle rehabilitation, but was also hands-on so people of all ages could go through the journey with us. The experience emulates the dedication and hard-work carried out by our talent team in our back of house turtle rehabilitation centre," said Mr Henderson.
"We're excited to launch the country's first interactive turtle rescue experience and for locals and internationals to learn about turtles, the threats they face in the wild and also follow the journeys of the turtles we have successfully rescue, rehabilitated and released over the years."
The Turtle Rescue experience is the first of its kind in New Zealand and profiles real-life turtle rescues that the dedicated Sea Life Kelly Tarlton's team has been involved in. The team has over 20 years' experience in rescuing and rehabilitating a range of endangered or near extinct sea turtles in New Zealand.
Opening just in time for Christmas on 11 December, Turtle Rescue is New Zealand's first and only interactive turtle rehabilitation experience at Sea Life Kelly Tarlton's