Shark Cage Adventure
Swim With Our Sharks
Every Saturday & Sunday 10 A.M. & 11:30 A.M.
Maximum 6 people per session
1-hour experience (incl. briefing & prep time)
Places limited, book early!
Participants under the age of 18 years must be accompanied by a parent or guardian
All participants must be 1.3m or more. 
Take the Plunge
Get closer than you ever imagined to these amazing predators of the deep!
Snorkelling with sharks at SEA LIFE Kelly Tarlton's Aquarium is an exhilarating experience and one of only a few experiences worldwide where you're guaranteed an underwater encounter with sharks.  
NO PREVIOUS DIVING EXPERIENCE REQUIRED!
You'll not only come face-to-fin to Wobbegong, School and Broadnose Sevengill Sharks, you'll also snorkel with other local Auckland marine life. Be submerged with massive stingrays (and we mean MASSIVE) and hundreds of amazing sea creatures with nothing but a cage between you!
Shark Cage Adventure
The cage is submerged in our predator tank so you're guaranteed to have a close encounter of the shark kind, every time. Through the cage's clear perspex bottom you can marvel at sharks, stingrays, and other fish from New Zealand's coastal waters swimming below, or past the mesh walls of the cage - often only feet away. 
This snorkel experience is the easiest, safest, and most exciting way to meet the often feared predators of the deep!
If you have an open-dated ticket or voucher that you would like to book - please contact us via email at operations@kellytarltons.co.nz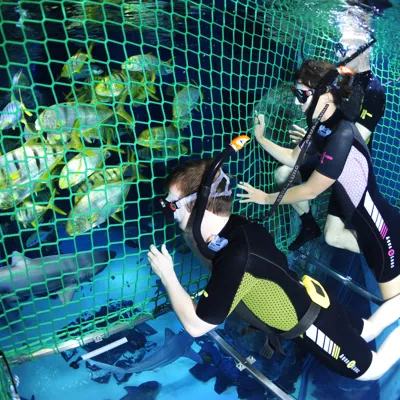 What's included?
Instructional training session and briefing from our experienced guides
All snorkelling equipment, wetsuit and bootie
Behind-the-Scenes sneak peek at the aquarium
An exhilarating 15-minutes snorkel with sharks, giant stingrays and more in the Shark Tunnel
All day general admission to explore SEA LIFE Kelly Tarlton's Aquarium
Videos and photos from your experience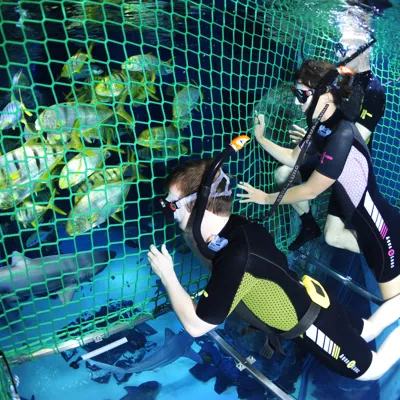 Important Info
Refunds CANNOT be offered for guests who booked but do not meet the criteria for participation. Please ensure you read the following documents before booking your experience:
IMPORTANT:
Any participant aged under 18 years MUST be accompanied by a parent or guardian who is participating in the experience.
All participants MUST be over 1.3 meters tall.
If you are pregnant you will not be allowed to participate in this Animal Adventure.
Bookings ARE ESSENTIAL for all experiences. The availability of Animal Adventures programs are limited and can be pre-booked online.
We recommend that you arrive 15-30 minutes before your Shark Adventure begins. Bring togs and a towel and wear covered footwear. Everything else is provided - spring suit, booties, and mask & snorkel.
Book Your Shark Cage Experience
This experience includes all day aquarium admission. Spaces are limited, pre-book now to secure your spaces!
Annual Pass Member's Benefit
Did you know you can participate in this unique experience from just $99 for TWO people?
Become a Kelly Tarlton's Annual Pass member to take advantage of this huge discount.
Find out more about Kelly Tarlton's Annual Pass benefits.
Criteria for Participation Summary
Please note this important information
If you are pregnant you will not be allowed to participate in this Shark Adventure.
Minimum height restriction is 1.3 metres. The tank is 3.3 metres deep. 
All persons aged 17 and under must have signed parental/ guardian consent (guardian must be 18 years or older) and must be accompanied into the Shark Cage by an adult
Participants must follow the instructions given by the guide
All participants must complete and sign both the Kelly Tarlton's Animal Adventure Terms and Conditions which includes a Statement of Understanding and Assumption of Risk Agreement and the Medical Declaration. If applicable, a doctor's medical clearance must be displayed to the adventure guide.
If you are purchasing this experience as a gift you must make the recipient aware of the Terms and Conditions which includes a Statement of Understanding and Assumption of Risk Agreement and the Medical Declaration.
Full participation details and experience terms and conditions are available in the below documents:
My boyfriend booked the shark cage experience for my birthday and I was so nervous but omg it was so worth it. We got so up close with the sharks and the giant sting ray. Well worth the money
The cage diving was amazing and our diver was really great and very informative about all the animals we got to see during the dive. We were also able to get all the footage on a GoPro so we have video evidence too.
A highlight of our holiday in New Zealand was the shark cage experience. It was awesome and meant we got up close to the sharks and stingrays!