A Quick Auckland Travel Guide: Things To Know Before You Go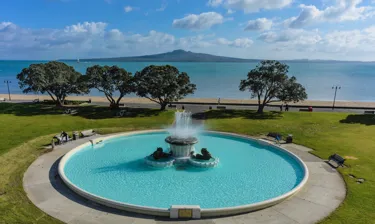 Unpredictable weather, Kiwi culture, and incredible things to see. Here's what you should know before you arrive in Auckland, aka, the City of Sails.
First and Foremost
It's great to wing it sometimes, but it's best to plan your time here as there are so many things to see and do. From incredible natural wonders (lots and lots of it!), and vistas to world-class attractions and ancient cultural experiences, you'll easily pack your travel itinerary.
Forecast Focus
New Zealand is a tiny island country in the middle of a whole lot of ocean. Due to its unique location and geography, at times, it can feel like summer one day, then winter the next. Pack an array of clothing, and bring your togs and towel because there are always water adventures to dive into. Some great all-weather activities include the renowned SEA LIFE Kelly Tarlton's, indoor pools, local live music and cosy coffee breaks – the Kiwis love their coffee!
Kia Ora!
Or, 'Hello, New Zealanders!' Kiwi fruit? Nope! It's the name of a native flightless bird. Another essential thing to know is the Maori are the country's native people; a rich culture, and a core part of the national identity. People here are warm and welcoming. You may even be lucky enough to receive a beautiful Maori Hongi greeting; where you press foreheads and noses together. The meaning? To share 'the breath of life.'
Walker's Paradise
Coastal walks, mountain walks, city walks (plus, the freshest air.) In and around Auckland, there's no shortage of them. Trek the 70,000-year-old Māngere Mountain where there's fascinating human history. Or venture through woodlands to reach over 1,000-metre high Mt Wellington. Both are extinct volcanoes!
Scrumptious Nights
Auckland has a diverse ethnic culture that's great to immerse in and explore at one of their vibrant night markets – every day of the week. Prepare your eyes, ears, noses and taste buds for exotic foods, local fashion and live performances. It's a fun night out with the family, plus it's free.
Turtle Rescue
Kiwis have a deep connection with the land and sea. 5 out of 7 marine turtle species are found in New Zealand's waters, and unfortunately, they're endangered. In response, turtle rehabilitation centre, SEA LIFE Kelly Tarlton's, has been rescuing these majestic creatures for over 20 years.
At Turtle Bay, you get to go behind the scenes and see some rescued turtles. You even get to save a turtle yourself through an excellent interactive digital experience that uses state-of-the-art technology.
What's more, SEA LIFE Kelly Tarlton's is an action-packed aquarium that's loads of fun for all ages. After exploring life above water, dive in and discover New Zealand's unique underwater world. Why not go swimming with sharks? Get on the ice to meet mischievous penguins up close. Or be amazed by what it was like to live in the coldest place on earth.
With a rotating calendar of events, exquisite marine life displays and conservation experiences, it's no wonder SEA LIFE Kelly Tarlton's is one of the best things to do in Auckland, for locals and travellers alike.