Cage Diving in Auckland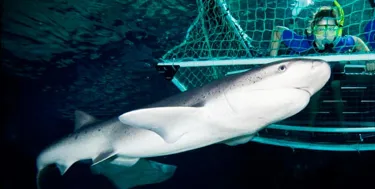 Not only is New Zealand drop-dead gorgeous, with a picture postcard view around every bend in the road, it's also the land of all things adrenalin. If you're looking for a thrill, you're spoilt for choice in this country; from bungee and big swings to heli-skiing and jet boating, it's fast-moving and fun. But outside-the-square adventure isn't only about on and above land, for a real rush, you can also venture underwater.
New Zealand: Adrenaline Capital of The World
If you're a daredevil of any inclination, New Zealand is paradise. If you're making a list of heart-racing experiences – put snorkelling with sharks at SEA LIFE Kelly Tarlton's Aquarium at the top. Take the plunge with the Shark Cage Adventure, one of the world's rare opportunities where you're promised to encounter a shark. With zero diving experience, go underwater with our incredible sea creatures with nothing but a cage to separate you.
Adventure With Bite
When you take on this underwater adventure, it's not just a case of the right place at the right time. Because the cage is submerged straight into our shark tank, you're guaranteed to come face to fin with Wobbegong, Sand Tiger, School and Broadnose Sevengill Sharks. Our cage has a clear Perspex bottom, which means you have an unobstructed view of our marine creatures. As well as sharks – stare at our stingrays, and a range of other fish found in New Zealand's coastal waters. With these beautiful sea beasts only an arm's length away, this is a safe, yet exhilarating way to hang out with some of these apex predators:
Broadnose Sevengill
This wiggly-style swimmer sports a small dorsal fin further down its back. Not always so clumsy and slow, this shark will surprise you with intense bursts of speed. Don't be fooled by their toothless smile, their top jaw is full of razor-sharp chompers, with rectangular teeth on the bottom, for successful sawing.
Sand Tiger
This large-sized shark has a sad history of being seen as a man-eater. Now highly endangered in the wild, this species has suffered due to over-hunting. The truth is, it's savage-looking teeth are better suited to gripping slippery fish, not humans.
Included in Your Experience
Before you're submerged, we'll suit you up in your spring suit and booties, as well as mask and snorkelling gear. Then, you'll receive an instructional training session and briefing from our experienced guides. When it's time for your 15-minute snorkel in the Shark Tunnel, lock eyes with sharks, giant stingrays and many more finned friends. The best part is – you'll earn some serious bragging rights with your self-filmed GoPro videos and photos that you can take home on a memory card. Get a behind-the-scenes sneak peek at the aquarium, and when you're done in the water, your all-day general admission means you can further explore SEA LIFE Kelly Tarlton's Aquarium.
Make sure you book ahead – because sharks – everyone wants to see them. Wear your swimmers, bring a towel and wear closed shoes; then ready, set – dive.
After you've crossed this shark dive off your adrenalin-filled to-do list, you can watch your GoPro footage, pause on the moment you meet a shark and share your wide-eyed expression across your social media. 
Book your Shark Cage Adventure online and save $10 per person!