Turtle Release Coming Soon
Friday 12th March 2021
Turtle Release, Conservation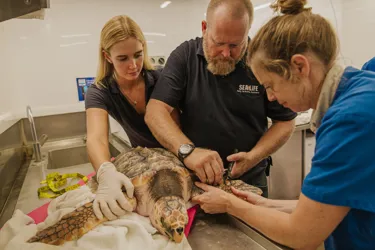 Photo credit: Auckland Zoo
The countdown is on to the release of two rescue turtles! Next week we will be releasing two sea turtles back into the ocean up at the Poor Knights Islands after their successful rehabilitation.
Spock and Kibou are two of six turtles currently being rehabilitated at the our on-site Turtle Hospital. The road to recovery has been a bumpy one, but the end is well and truly in sight for these two turtle-y awesome patients.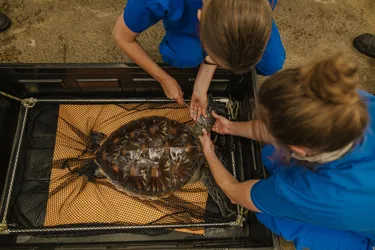 A bit about Kibou and Spock.
Kibou is a loggerhead turtle who was found stranded on Muriwai Beach and came to SEA LIFE Kelly Tarlton's in October 2019 suffering from a shoulder wound and lung infection. The team nursed him back to health, helping him gain 8kgs ahead of his release.
Spock is a green sea turtle who was also found floating on Muriwai Beach and came to the team in September 2020. Spock had serious injuries on his middle digits, which led to the partial amputation of the two front flippers. Thanks to the amputation, Spock has made a full recovery and was ready to return to the ocean.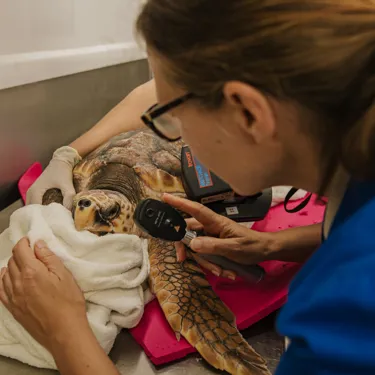 Earlier this month, the vet team from Auckland Zoo conducted a pre-release health check. With the tick of approval from the vet team, Spock and Kibou will be released back to the wild very soon - so watch this space. 
About the Turtle Rehabilitation Centre:
SEA LIFE Kelly Tarlton's is home to New Zealand's only Turtle Rehabilitation Centre
SEA LIFE Kelly Tarlton's voluntarily started a Turtle Rehabilitation Program in 1995 where we treat sick or injured sea turtles found in New Zealand's waters