Get to Know Kelly Tarlton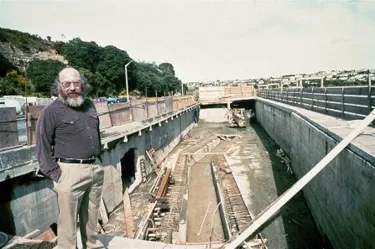 Kelly Tarlton was not a sporty type of kid. No-one ever thought – hey, here's New Zealand's future finest diver and explorer. Kelly did enjoy rock climbing though, and ironically, it was this hobby which led him into the ocean. When a South American climbing trip was suddenly cancelled, Kelly went to a local cinema, hoping to drown his disappointment with some quality screen time. The film showing was Jacques Cousteau's The Silent World, an exploration of life under the sea. And just like that, Kelly Tarlton was hooked.
It'll be Alright!
What Kelly Tarlton lacked in knowledge, he made up for in bravado and creativity. There was nothing he couldn't fix and no adventure too crazy to plan. He always reassured his diving buddies everything would be ok; there was no challenge they couldn't tackle together. Kelly famously made diving masks from old tyres and fashioned a 'Manta Wing' that allowed him to fly across the sea floor in a Perspex bubble. He developed an epic reputation as a marine archaeologist, with a formidable diving business which laid many underwater cables and pylons we still use today. Unsurprisingly, his real passion was for treasure hunting; he travelled the world locating ancient shipwrecks and combing through them for silver, gold and jewellery. He even re-discovered a long-lost anchor, confirmed as the oldest maritime evidence of contact between Europe and Aotearoa.
A Man With A Plan
Kelly Tarlton's human-made and natural underwater discoveries were astounding. He identified new species while diving coral reefs in remote locations, and was keen to share his passion with the public. Kelly's notebook was overflowing with ideas for an Aquarium, and this is how SEA LIFE Kelly Tarlton's began to take shape. First, he imagined ways to repurpose an old sewage treatment plant on the Auckland waterfront. But his greatest idea was the underwater viewing tube, complete with a moving walkway to transport visitors directly into the heart of the marine environment. This was the first time people had been able to see the ocean's apex predators up close! The aquarium was an instant hit, and 18 months later, the millionth visitor walked through the doors.
New Experiences
SEA LIFE Kelly Tarlton's remains one of Auckland's top attractions. Visitors still gaze open-mouthed as twenty different kinds of shark swim by, and now, many choose to take their adventure to the next level, with a shark cage diving experience. Those who would rather stay dry can go behind the scenes to meet the sea turtles in our rehabilitation program. New Zealand's only colony of Antarctic Penguins is here too, so order your Penguin Passport to see them shuffling through freshly made snow. And keep an eye out for Phoebe's daughters. Phoebe was our original stingray, and her two descendants now rule the pool. At nearly 300 kilos each, you're unlikely to miss them!
These imaginative gifts were made possible by the vision and perseverance of Kelly Tarlton. Born in 1937, and sadly passing in 1985, he used his short 47 years to spend as much time as he could underwater, leaving an unforgettable legacy for us all.
To experience this incredible man's lasting legacy, get your tickets to SEA LIFE Kelly Tarlton's online now. We can't wait for you to experience it for yourself!