Keep your cup to help keep turtles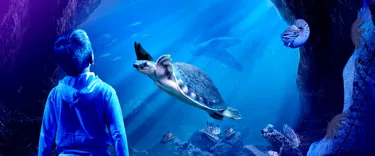 SEA LIFE attractions across New Zealand and Australia have launched a limited edition World Turtle Day Keep Cup in order to raise much-needed funds for these ancient creatures, many species of which are critically endangered.
$5 from the sale of every Keep Cup will go to SEA LIFE's charity arm - the SEA LIFE Trust - to help in their endeavour to protect turtles through research, campaigns and education.
SEA LIFE Trust Manager Claudette Rechtorik sees this initiative as a great way for the public to help turtles and the environment at the same time: "Sea Turtles have been a part of the marine ecosystem for millions of years, and it's devastating to see their numbers in the wild dwindling, with single-use plastic a huge contributor to the problem.
"A simple thing we can do to help is most definitely using a reusable cup when out and about, which is why this initiative is a great step in the right direction. If everyone used a reusable cup, imagine the HUGE difference it would make to the planet, the ocean and its creatures."
Over a thousand marine turtles have called one of the SEA LIFE family of aquariums across Australia and New Zealand home over the years, most of which have been rescued, rehabilitated and released.
SEA LIFE Kelly Tarlton's Aquarium, along with the SEA LIFE Trust, will be using the proceeds of the Keep Cup to continue conserving and protecting New Zealand's unique aquatic habitats and the incredible animals that live in them.
SEA LIFE attractions across Australia and New Zealand regularly hold cleanups on and around waterways, with over 4000kg of rubbish being collected thus far in 2019.
The limited edition Keep Cup can be purchased online when buying a SEA LIFE ticket, or via SEA LIFE attraction's gift shops for $30.
#everyturtlecounts