Night Creatures
Monday 1st May 2023
Shark, Eel, Octopus, Jelly Fish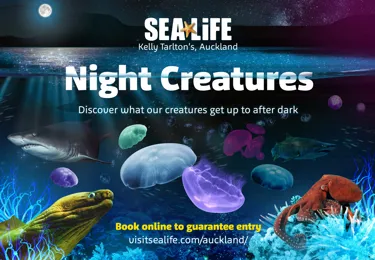 ​This May and June discover what Night Creatures get up to "after dark", but during the day at SEA LIFE Kelly Tarlton's. 
Have you ever heard something spooky go "bump" in the night?
Well, what if you heard a splash, a bubble, a drip or a squawk? The soft ripple of a fin... then the ominous snap of a jaw?​
And what if your weren't home in bed with a light switch handy, but in the middle of a deep, moonlight ocean with gleaming animal eyes tracking your every move? ​
Venture through the aquarium to find out more about the weird and wonderful creatures that come out after dark, when all other animals have gone to bed! 
Grab your Night Creatures activity sheet at our admissions desk on arrival! 
Book now: https://www.visitsealife.com/auckland/tickets-passes/