Pebble Painting
Thursday 28th January 2021
Annual Pass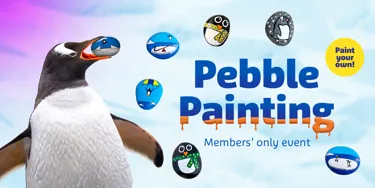 "During Gentoo Penguins courtship period, male and female penguins will scour the ice for the perfect pebble and present it to their sweetheart as a gift. If accepted and a partnership formed, they will continue to collect pebbles until a nest is built."
We are inviting our Kelly Tarlton's Annual Pass and Merlin Annual Pass members to come and paint the pebbles that our Gentoo penguins used to build their nests last season.
Join us and our Penguin team will select one painted pebble as the winner to receive a prize pack of Penguin goodies!
Please note:
This is a members' only event. Only book tickets if you are a current Kelly Tarlton's Annual Pass or Merlin Annual Pass member. Annual Passes will be scanned at the time of entry. (Note: to check if your membership is still valid, please email operations@kellytarltons.co.nz)

One pebble per person. You only need to book for your child if you are accompanying your child.

Entry is free if you are an Annual Pass member.

If you are not an Annual Pass member, but are accompanying a member who will be painting, you should pre-purchase your General Admission ticket.

Suitable for children 3-15 years old.

All children must enter the attraction with an adult 16 years or over.

Event dates are - 08 Feb, 18 Feb, and 25 Feb 2021 at 9:15am sharp. Please be on time.

Allow 1 to 1.5 hours for painting. We will collect the pebbles for drying and vanishing after the event.

You can collect the pebble on your next visit.

We reserve the right to give your space away if you arrive 15 minutes late.

By attending this event, you agree to be photographed and/or filmed and give permission to use your likeness in promotional and/or marketing materials.
How to book:
Spaces are limited. Please reserve your spot via Eventbrite. 
Note:
Our usual site opening time is 9.30am, we will open our doors earlier at 9.15am for attendees only on days of the events.