Plastic Free July Pop-Up Stalls!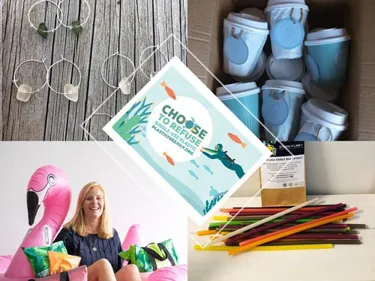 Plastic Free July is a global movement encouraging people to reduce their plastic use throughout the month, and hopefully continuing throughout their lives! Together we can all make a real difference - whether it's cutting out all plastic use or taking small steps towards a plastic-free lifestyle, every little bit counts.
Here at Kelly Tarlton's we wanted to celebrate Plastic Free July by providing guests with the opportunity to grab themselves an eco-friendly (and practical!) souvenir. We partnered with 4 eco-friendly companies who were invited to set up a once-off pop-up stall right here in Turtle Bay! Throughout the month, some of our lucky guests were able to meet with the lovely ladies from Straw-the-line, Kaitiaki, Glass by Greer and I-Used-To-Be, and walk away with some eco-friendly goodies to help kick-start (or continue) their plastic free journey!
Straw-the-line are saving the planet "one slurp at a tie" with their edible raw straws. These two local mums were sick and tired of seeing plastic straws in their local environment, and have now become part of the solution to this common environmental pollutant! If you missed them while they were here at KT's, you can grab yourself a pack from their website:
Kaitiaki Co. are a group of young woman working to rid the world of single use items - starting with coffee cups! These young ladies started their journey in the Ocean Youth (www.oceanyouth.org) program ran right here at KTs in 2019 - turning their passion for marine conservation into a reality, they have been selling their branded reusable coffee cups online for almost a full year. You can support them and grab a gorgeous coffee cup online:
https://kaitiakico.squarespace.com/
Greer, a marine biologist, has a love for the ocean - and for earrings! She has been cleaning up the seas one piece of glass at a time, and turning this trash into treasure! Selling her earrings on Instagram, Greer is a great example of how upcycling can produce something truly beautiful.
https://www.instagram.com/glassbygreer/
Another Queen of upcycling - Nina from I-Used-To-Be! Taking old, inflatable pool toys destined for land fill, Nina is turning these into fashionable and practical splash-proof bags. There's still time for you to catch Nina at Kelly Tarlton's this SATURDAY the 25th of July for our fourth and final pop-up stall from 10am-2.00pm. Not planning a visit? You can check out all of her beautiful bags online: