Snorkelling & Experiencing Marine Reserves, Auckland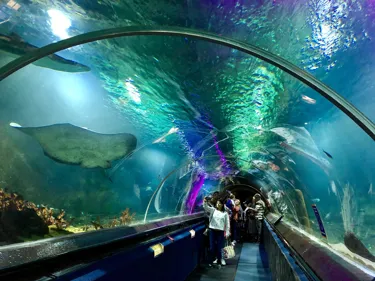 How lucky are we to have so many marine reserves in Auckland? Here are some exciting ways to explore our unique aquatic environment.
School of Fish
Snorkelling in Auckland. It might not be the first thing you think of to do here, but when it comes to underwater worlds, we've got the goods! EMR stands for 'Experiencing Marine Reserves', and that's exactly what happens with an EMR program. EMR runs specialised school programs, including guided snorkelling tours in the Hauraki Gulf to help kids understand what's underwater, and why. From species unique to our seas to comparisons between protected and unprotected marine zones, kids come out excited by what they've seen and learned.
Community Fun
EMR also runs community snorkel and kayak events, taking in all the marine reserves of the Hauraki Gulf, along with islands like the Mokohiaus and Te Hauturu O Toi (Little Barrier Island.) The EMR program started small, but over the years,  nearly 15,000 people have enjoyed discovering our waters! Now, with more than 18 events on the crowded calendar, there's every opportunity for you to get in and learn something new too.
SEA LIFE Kelly Tarlton's
If snorkelling's not your thing, you can deep dive into the marine world at SEA LIFE Kelly Tarlton's. These days, visiting an aquarium goes beyond pointing and staring. It's a chance to learn some incredible things. After all, this is the place created by a man who loved the ocean. He was one of our original marine conservationists, as well as an inventor and all-round interesting guy. So it's no surprise that SEA LIFE Kelly Tarlton's goal is to help you love and understand the marine environment as much as they do.
SEA What?
At SEA LIFE Kelly Tarlton's, you'll learn about the different species that call New Zealand home. Wander through the oceanarium tunnels (invented by Kelly Tarlton), and feel like you're walking on the seafloor. Meet the sea turtles in the Turtle Rescue Centre. This is the only place in NZ that rehabilitates sick and injured sea turtles, so it's vital work. Five of the seven sea turtle species are known to live around NZ, so it's up to us to look after them.
O-Penguin Your Eyes
You could stare for hours at the penguins and their antics. King and Gentoo Penguins live at the Aquarium, so it's the best place to see them up close. Did you know this is one of the most successful breeding programs in the world? That's good news for our penguin friends. Don't forget all the marine creatures you can see, like jellyfish, seahorses and stingrays. There are sea dragons which can't be seen on display anywhere else. And of course, sharks. Big sharks!
Under the SEA
For more in-depth learning, SEA LIFE Kelly Tarlton's also runs school programs, using the impressive exhibits and spectacular displays as an underwater classroom. They also offer sleepovers under the sea! We have an excellent conservation resource on our doorstep, so dive in and learn everything you can. Then, take that knowledge out into the wider environment. Imagine swimming or snorkelling this summer, and being able to identify what you see underwater! It's lifelong learning that brings rewards for the whole family.