The Funnest Thing to do With Kids in Auckland
Friday 7th September 2018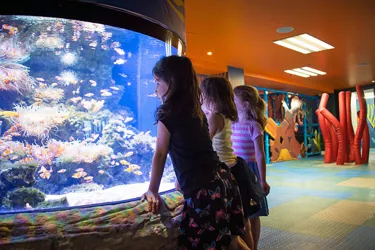 The weekend approaches or, even worse, the school holidays, and the impending dread hits you as you wonder how on Earth you're going to keep the kids entertained. Fear not, we are here to save you! There are many fun things to do with kids in Auckland, but none of them compare to a visit to SEA LIFE Kelly Tarlton's.
At our aquarium, there is so much to see, do and discover all under one roof. No matter how many times you come back you will always find something fresh to experience, especially with our fun-filled school holidays activities. In addition to the amazing creatures and world's first Oceanarium we're famous for, here are three things your kids will absolutely love that you may not have known about…
Antarctic Ice Adventure
Did you know SEA LIFE Kelly Tarlton's is home to the Southern Hemisphere's largest penguin colony and the world's largest colony of Antarctic (let me check this stat!) and Sub-Antarctic penguins? You have the rare opportunity to see these magnificent birds up close in their icy habitat at our aquarium. You will be mesmerised as you watch our penguins slip and slide along the ice and dive into the water as they chase and play.
You can easily spot our cheeky Gentoo penguins by their wide white stripe that extends like a bonnet across the top of their head, and the King penguins by their yellow markings and sheer size – they're the second largest of all penguin species!
Amazing Creations
A completely unique and interactive zone, Amazing Creations is a magical place for your little ones. Here, they can draw their very own sea creature and then watch it come to life on the huge interactive wall. They will see their masterpiece swim right in front of them, alongside other bright and colourful fish which reflect the four themes of the room - spots, stripes, shapes, and colour. When they're in this zone, they will also learn why these four themes are so present in nature, as well as conservation issues that coral reefs face and why their existence is so important to the survival of many species of fish.
Shipwreck Shores
Shipwreck Shores is not your average indoor playground... like its name suggests, shipwreck-themed and like something out of your kid's dreams! They can duck and weave through multiple levels, slip and slide like a penguin and hunt for the hidden fish tank to discover even more natural wonders within. There is also a splash table where they can safely enjoy the fun of water play, as well as a soft play area and chill out zone.
You'll love Shipwreck Shores just as much as them; grab a coffee while they play and watch them burn off some off that seemingly never-ending energy. Then, enjoy a child who goes to bed easily that night!
Think your kids will love a day out at SEA LIFE Kelly Tarlton's? Pre-book your tickets online now to save up to 10%!