The Greatest Gift Idea for Men
Thursday 1st November 2018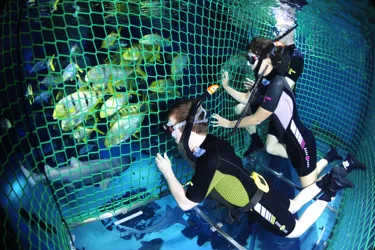 Are you on the hunt for a gift idea that will knock the socks off a man in your life? Well, you've found it! Introducing you to the Shark Cage Adventure at SEA LIFE Kelly Tarlton's.
Sharks in the Heart of Auckland
To get an up close shark experience, you'd normally have to jump on a boat for hours to find waters teeming with sharks to dive in with. Even then, there is never a guarantee in open waters that you will a single shark. Shark Cage Adventure at SEA LIFE Kelly Tarlton's is a unique experience and the only place in New Zealand where you're guaranteed an underwater shark encounter!
Dive on in!
Our most popular and most thrilling experience, Shark Cage Adventure sends the brave into the Predator Tank and up close and personal with our sharks. There's nothing between them and these predators of the deep but the shark cage walls. Our Predator Tank is home to School, Sand Tiger, Wobbegong and Broadnose sharks, as well as many other amazing marine creatures including giant stingrays that will mesmerise as they glide by. Not for the faint hearted, this experience is the perfect gift for any man with an adventurous spirit or someone who loves to be pushed outside of their comfort zone. Your gift recipient will be kitted up with a snorkel during the experience, so no diving experience is required.
A Memorable Experience
As a parting gift, your gift recipient will also take home an underwater video of their dive they can use to relive the experience and show off just how brave they were coming face to fin.
See what other experience gift vouchers we have available at SEA LIFE Kelly Tarlton's below.