The Ultimate Auckland Attraction Passes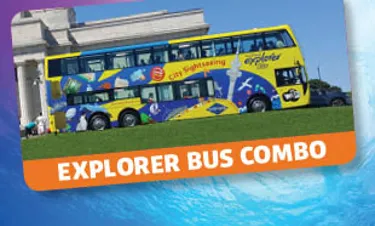 If you're looking for the best deal on Auckland Attraction Passes, then look no further because we have everything you could possibly want, right here! Check out each multipass deal below and you'll see for yourself why they are the best and most exciting Auckland attraction deals on offer…
ATTRACTION PASS OPTION #1:
Kelly Tarlton's + Explorer Bus Combo
From city life to wildlife — see it all with the best attraction combo deal in town! Take a ride around Auckland's top tourist spots with a 24hr hop-on hop-off Explorer Bus ticket plus entry to SEA LIFE Kelly Tarlton's. Want even more? You got it! You'll also get a bonus return Devonport Ferry ticket with this special deal.

Choose from two Explorer Bus tour circuits. The Red Tour circuit covers Auckland's central city and waterfront highlights including SEA LIFE Kelly Tarlton's, the Sky Tower and Parnell Village. Change to the Blue Tour at Auckland Museum to see even more! There's no better way to catch the best of Auckland than a SEA LIFE Kelly Tarlton's + Explorer Bus Combo ticket.
 ---
ATTRACTION PASS OPTION #2:
Kelly Tarlton's Annual Pass
Come and visit SEA LIFE Kelly Tarlton's as many times as you like for a full year! There is so much to see and explore that upon each return visit you will always discover something different or new. You'll get to know all of our marine creatures almost on a personal basis by visiting them often and making sure you catch all of the talks that our aquarists do daily. From baby penguins to giant sharks, you'll become a part of the SEA LIFE Kelly Tarlton's family with this Auckland multipass. Plus, there are always new activities in school holidays too, so you'll have to keep coming back to make sure you don't miss out on any of the fun.
---
ATTRACTION PASS OPTION #3:
Merlin Annual Pass
The most super of all superpasses, is the Merlin Annual Pass. With this amaaaazing attraction superpass, you get access to all ELEVEN of Merlin's attractions across Australia and New Zealand. WOW! If you're holidaying from New Zealand to Australia, you already have plenty of things to do, see, explore and discover on your trip with this super duper attraction pass.
We're positive you won't find a better deal anywhere that gives you access to eleven different attractions for such a great price - it really is the best deal in Australia and New Zealand!
Not only do our annual passes get you into the attractions as many times as you like, but they also give you discount on all of the amazing experiences that each attraction has to offer, as well as discounts on food and drinks and much more while you're there. That equals a HUGE amount of savings YOU can enjoy!