Turtle Release - Te Ahuru
Tuesday 23rd May 2023
Turtle Release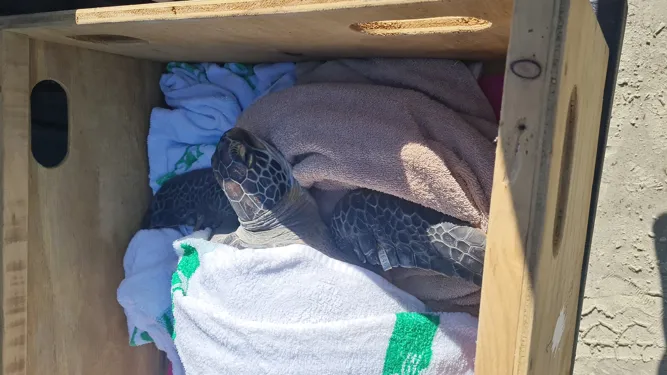 The green turtle, named Te Ahuru (which translates from te reo Māori to English, Te Ahuru meaning 'to protect and nurture'), was found washed up on the shores of Rangaunu Harbour, Te Tai Tokerau – a shallow harbour located in the far north of New Zealand. Located on its carapace (upside down), the marine turtle was swiftly transported to Auckland Zoo, where its veterinary team conducted a thorough assessment, noting mild dehydration and slight buoyancy issues.
After 9 days care at the Zoo, Te Ahuru moved temporarily to SEA LIFE Kelly Tarlton's Turtle Rehabilitation Centre, where a comprehensive care plan was implemented. During its 9 months stay, Te Ahuru received carefully proportioned meals to support growth and constant monitoring to track its progress. Delighting the rehab team, Te Ahuru's weight increased from 13 kilograms to a healthy 19.1 kilograms – the desired weight for a green turtle to be released back into the wild.

In preparation for the release, a plan was devised, consulting with Ngai Takoto and the Department of Conservation, as marine turtles are seen as a tohu (sign) for protection and longevity. Following a karanga (welcoming call), school students, hapu and whānau (local communities and their extended families) supported Te Ahuru into the waters off Kaimaumau Beach with waiata – a fitting farewell for this taonga species. "The successful release of Te Ahuru is a testament to the dedication and collaboration of the veterinary team at Auckland Zoo, as well as the unwavering commitment to conservation shown by all parties involved," said Tyler Hall, Aquarist – SEA LIFE Kelly Tarlton's.

"We are immensely proud of Te Ahuru's progress and believe that it serves as an inspiration to us all."
"It's always such a great team effort to help endangered marine turtles like Te Ahuru, and so rewarding when
they're able to be released back to the wild, says Auckland Zoo veterinary services manager, Dr James Chatterton. "If given the chance, green turtles can live up to 80 years, and we certainly hope that Te Ahuru will be long-lived and able to breed and contribute to the future of her species."

The rescue, rehabilitation, and release of sick and injured marine turtles in New Zealand is a collaborative effort from Team Turtle, which includes SEA LIFE Kelly Tarlton's, the Department of Conservation, Auckland Zoo with iwi engagement. Team Turtle urges people to report injured or stranded turtles to the DOC emergency hotline on 0800 DOC HOT (0800 362 468).