Releasing Calvin the green sea turtle back into the wild!
Friday 6th March 2020
Turtle Release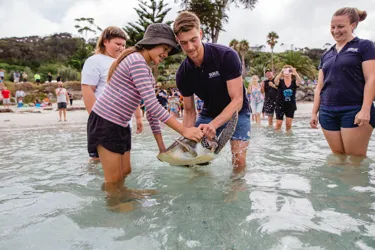 This week, Calvin the Green Sea Turtle was successfully released into the ocean at Rangiputa Beach by the affectionately named 'Team Turtle', a collaborative effort from SEA LIFE Kelly Tarlton's, the Department of Conservation, Auckland Zoo, and iwi, with generous support from Countdown. Watch the release here.
After passing his pre-release health check with flying colours, Calvin embarked on the 4.5 hour drive to Rangiputa, north of Kaitaia, where he was released with assistance from local school children and iwi on Wednesday.
Calvin first came into care at SEA LIFE Kelly Tarlton's Turtle Rehabilitation Centre in November 2018, after he was rescued in New Zealand's Far North and received initial treatment at Auckland Zoo's vet hospital, the New Zealand Centre for Conservation Medicine.
At the time of his rescue, Calvin was in a worse condition of any turtle cared for at the aquarium, weighing just 11kg, but after 14 months of continuous monitoring and rehabilitation, the staff at SEA LIFE Kelly Tarlton's have been amazed at his progress.
"For the last 14 months, our dedicated team has worked closely with Calvin to nurse him back to health, and I'm incredibly pleased to report that he now weighs an impressive 20kg!" says SEA LIFE Kelly Tarlton's Head Curator, Andrew Christie. "To get him this far has not been easy. For over a year, he has endured intensive care from both our staff, and the team at the Auckland Zoo, involving tube feeding, CT scans and numerous blood tests."
"Watching Calvin swim into the distance was a huge relief for all of those who have worked tirelessly nursing him back to health, but despite today's positive outcome, not all turtles are as lucky." Says Christie.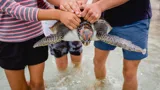 Of the seven marine turtle species found globally, five are found in New Zealand waters and all of them are either classified as endangered or critically endangered. These creatures face a number of threats in the wild including boat strikes, entanglement, or accidental plastic ingestion. "At SEA LIFE Kelly Tarlton's, our interactive Turtle Rescue display aims to educate the public about plastic pollution and the threat that this poses to our marine wildlife, especially sea turtles." Says Christie.
DOC Threatened Species Ambassador, Erica Wilkinson echoes the sentiment around reducing the amount of plastic in our oceans.  She says, "ingestion of plastic is increasingly the main reason that turtles wash ashore, so please think about single-use plastic and please dispose of it mindfully." She continues, "if you find a turtle washed up on a beach, please call 0800 DOCHOT immediately. The sooner we can get the injured animal to safety, the higher its survival rate."
Since its inception in 1985, SEA LIFE Kelly Tarlton's has cared for a total of 100 sick or injured sea turtles in its dedicated Turtle Rehabilitation Centre, which was recently re-developed with support from Countdown, and is the only one of its kind in New Zealand. 42 of these turtles have been successfully rehabilitated and released back into the ocean.
"We're extremely grateful to Countdown for their generous support of our Turtle Rehabilitation Centre and their continued efforts to reduce plastic and packaging in their stores.  Reducing plastic, especially the types that can easily end up in oceans and waterways, is vitally important if we are to improve the future prospects of our Sea Turtles and other marine wildlife", says Christie.
With Calvin safely returned to his natural environment, two Loggerhead sea turtles are still recovering at SEA LIFE Kelly Tarlton's, and through the continued efforts of 'Team Turtle', it is hoped that one day they too will be released back into the sea.
Watch the release here.
Related blogs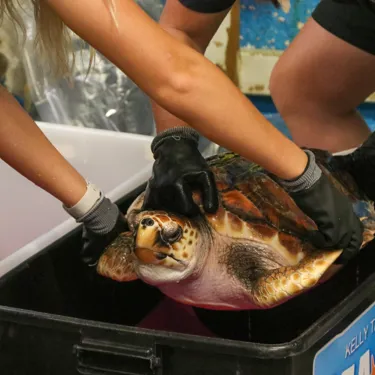 Team Turtle rejoices as two rehabilitated sea turtles return to the ocean
Two rescued sea turtles have been released back into the ocean after undergoing successful rehabilitation stints at SEA LIFE Kelly Tarlton's Aquarium. 
Find out about Team Turtle and the release of Kibou and Spock.
Related blog posts