Turtle Trio Returned to the Ocean
Friday 11th March 2016
Turtles, Turtle Release, Conservation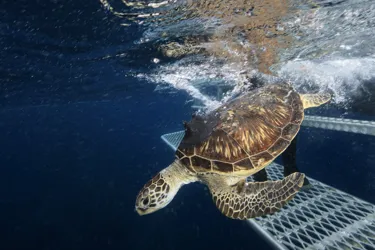 With the support of the SEA LIFE Trust, Kelly Tarlton's staff today released three sea turtles into the protected waters of the Poor Knights Islands Marine Reserve, having successfully been nursed back to health - for some a journey of 18 months.
Marine animals are our passion, and we are so happy to be releasing these animals to live a long life back in the wild. Kelly Tarlton's provides the only sea turtle rehabilitation programme in New Zealand, and has been releasing turtles back into the wild for over 20 years.
The turtle programme is an amazing partnership between many organisations. When an (often very sick) turtle is first found on the beach by a concerned member of the public, often in partnership with the local iwi (such as Ngai Takoto, Ngati Kuri, Te Aupouri and Te Rarawa), they alert the Department of Conservation, who with Air New Zealand arrange transport of the turtle to Kelly Tarlton's in Auckland.
Auckland Zoo's vet team provide the first stages of medical care for these animals before they start their long journey to recovery at Kelly Tarlton's. Today's release in the Poor Knights Island Marine Reserve was aided by Dive! Tutukaka, who take the staff and animals out to an appropriate area within the reserve, and the turtles were sent on their way with the blessing of Ngatiawa, the local iwi for the Poor Knights Islands.
Can I still see turtles at Kelly Tarlton's?
Yes! There are still turtles who are undergoing treatment and rehabilitation at Kelly Tarlton's in the hope we can release them later this year. Come and see them in our Shipwreck Discovery Zone before they go!
More about the turtles which were released today
Today we released two different species of sea turtle - two green and a black. Green Sea Turtles are not uncommon within NZ waters, but black turtles are much rarer. Sadly, all species of turtles are endangered, with some, such as the hawksbills currently at Kelly Tarlton's, being classed as critically endangered. Find out more about today's VIP turtles here

All three turtles are being released with satellite tags, and the data collected will be used to better understand marine turtle journeys, and how we can protect these vulnerable and endangered animals. Like most turtles we look after, two of the turtle released today were released on 90 Mile Beach, however the black turtle was found on a beach in Manuwatu, which is much further south than we would expect a turtle to be swimming, given their preference for warmer waters.
Why are the turtles satellite tagged?
Our marine creatures are some of the least understood creatures on earth - as the ocean is so vast and deep, it's really hard to find out where animals travel to and their behavior. Particularly when a creature is as endangered as the sea turtle, by gaining more information and drawing a clearer picture of their activity, we can take better action to protect their habitat and breeding grounds and help the species survive. All of the tags and the satellite time is funded by the SEA LIFE Trust as part of our remit to protect the world's oceans.
What can I do to protect sea turtles?
The most important action you can take to protect our amazing turtles is to protect their environment. Always dispose of your rubbish responsibly, and like we do, make a commitment to recycle or use re-usable materials.

If you do see a marine animal in distress - call the Department of Conservation on 0800 DOC HOT (0800 362 468)