'Turtle-y' new start for rehabilitated turtles
Tuesday 26th March 2019
Turtle Release, Conservation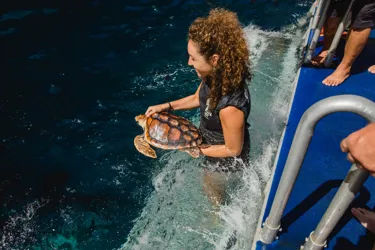 SEA LIFE Kelly Tarlton's Auckland and SEA LIFE Trust has successfully released three turtles – Toby, Jaxon and Connie – following two years of collective rehabilitation.
After passing their pre-release health checks with flying colours, the three turtles were released off the coast of Tutukaka, catching the current into an off-shoot of the Australian Eastern Current complete with a karakia from the local Ngātiwai. Just like their rehabilitation journeys, the three turtle friends all have distinct personalities and have gone from strength to strength during their combined 887 days in SEA LIFE Kelly Tarlton's rehabilitation centre.
First up is Toby, a young green sea turtle found outside Whangarei in July 2018. Despite his small size, Toby is packed full of attitude and spends most of his time scratching his back against his favourite rock in his Turtle Rescue display.
Second is Jaxon the loggerhead turtle who has been stealing the hearts of the team since his arrival in an ice-cream container in October 2017. Jaxon was found stranded at 90 Mile Beach with a severe lung infection. Following several weeks of treatment, Jaxon regained his attitude and size, growing from 1.89 kilograms to a healthy 7.32 kilograms.
Lucky last is Connie the green sea turtle who has been with SEA LIFE Kelly Tarlton's since December 2018. Although her stay has been short but sweet, Connie has overcome her severe digestion and oedema issues in leaps and bounds. Connie's intelligence, grace and friendly nature has captured the hearts of the turtle team since her arrival.
During their time in SEA LIFE Kelly Tarlton's Turtle Rescue Centre, the trio has been serving as ambassadors for the marine species, educating the public on the plight of their wild counterparts through daily turtle education talks. SEA LIFE Kelly Tarlton's Aquarist, Alyssa Berimballi, said it is always rewarding to see journeys like these come to a positive end, particularly after many months of rehabilitation.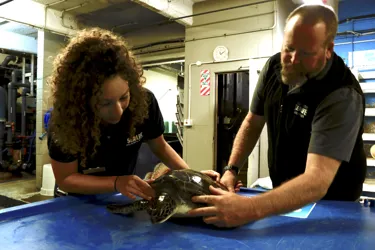 "Watching Toby, Connie and Jaxon swim into the distance was a huge relief for the team who have worked tirelessly nursing them back to health. Although we are sad to see them go, we are sure they will live full, happy lives with their new found health," said Ms Berimballi.
"Despite today's positive outcome, not all turtles are as lucky. Turtles face a number of threats in the wild including boat strikes and accidental plastic ingestion or entanglement. At SEA LIFE Kelly Tarlton's we aim to educate the public on the threats turtles face and encourage behavioural change by choosing to reuse and being mindful of plastic pollution."
For the past 21 years, SEA LIFE Kelly Tarlton's Turtle Rehabilitation centre has rehabilitated and released more than 52 turtles and is New Zealand's only turtle rehabilitation centre. The attraction is also a member of an experienced and dedicated industry team - The Turtle Rescue Team - that works with these amazing creatures. The Turtle Rescue Team is made up of SEA LIFE Kelly Tarlton's, SEA LIFE Trust, Auckland Zoo and the Department of Conservation with a special mention to Air New Zealand.
Of the seven marine turtle species, five are found in New Zealand waters and all of them are either endangered or critically endangered. Experiences like Kelly Tarlton's Turtle Rescue display help educate the broader public on how their behaviour in and around the water can impact local marine life.
Turtle Rescue and the Turtle Rehabilitation entre also aim to educate Kiwis and tourists alike on the important story around what type of turtles inhabit our coastlines, why and how they got here and where the turtles go once they are released.