World Turtle Day Competition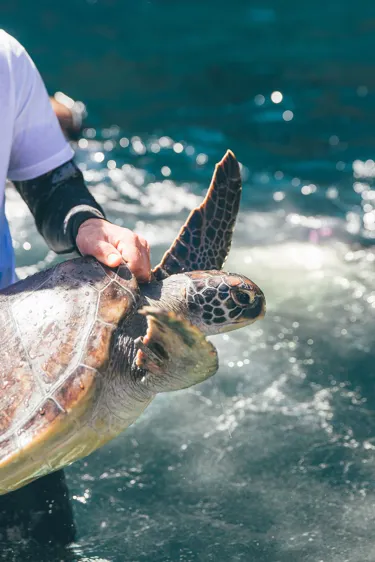 SEA LIFE Kelly Tarlton's Aquarium has launched a competition in the lead up to World Turtle Day on Saturday 23 May to give two children the opportunity to win an Annual Pass and a private tour of the Turtle Rehabilitation Centre!
We are reopening the aquarium ahead of World Turtle Day, which raises awareness of the dangers facing sea turtles in the wild and their need for protection and conservation. Plastic pollution is a major threat to sea turtles as they often mistake plastic for food resulting in starvation, poisoning and fatal stomach blockages.
We are calling on school-aged kids to create a piece of turtle-inspired art or craft using recycled plastic from their own home!
To enter, individuals aged 3-15 must submit a photo and short description of their artwork in the comments of this Facebook post by Wednesday 20 May.* We will choose one winner aged between 3-6 years old and a second winner aged between 7-15 years old.
SEA LIFE Kelly Tarlton's is currently home to two rescued sea turtles that are undergoing treatment in the aquarium's Turtle Rehabilitation Centre, which has recently been upgraded thanks to a generous contribution from Countdown Supermarkets.
One of these turtles is a loggerhead turtle named Kibou, which was found on Muriwai Beach in 2019. The juvenile turtle was found with a large infected wound and its health since undergoing treatment. Kibou is now in our Turtle Bay display and we are hoping to be able to release it back into the ocean in 2021.
*Terms & Conditions:
Name: World Turtle Day Competition
Promotor: SEA LIFE Kelly Tarlton's
Competition commences: Tuesday 12 May, 2020 at 9:00am (NZST).
Competition ends: Wednesday 20 May, 2020 at 23:59pm (NZST).
Winner announced: Friday 22 May, 2020.
Entrants must be aged between 3 – 15. One winner will be aged between 3-6 years old and the second winner will be aged between 7-15 years old.
To enter the competition you must post a photo of your recycled plastic turtle artwork in the comments section of the Facebook competition post, along with a description of your artwork.
This is a game of skill, the winner will be determined by the Promoter as the most creative turtle artwork build.
There will be two winners.
The photo of the winning artwork and the name of the winner will be used for promotional purposes.
The prize pack includes 1 x Family Annual Pass to SEA LIFE Kelly Tarlton's valued at $244 and 1 x special Family Behind the Scenes Tour of the Turtle Rehabilitation Centre valued at $150. The total prize pack is valued at $394.
** This competition has now ended **