Prepare for Seal-iness
As if there wasn't already enough fun at Seal Island with daily presentations, you can get even closer! Have a close look at our playful seals underneath the water. Discover the true sight, smell and sound of our seals through the fun and educational interactives located at Lower Seal Island as you watch and learn about our resident seals. This is the best way to really watch their agility, speed and natural behavior under water. 
Some of our amazing seals you will meet here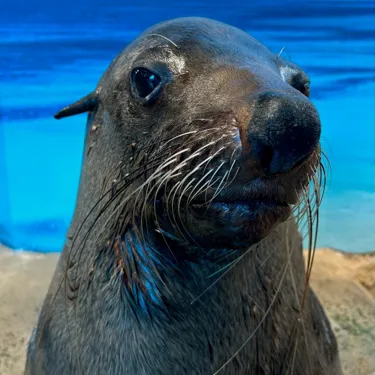 Meet Groucho
Groucho arrived here in 2000 after being found on a beach in Victoria. Groucho was rescued as its assumed people had started to feed him and eventually, he became reliant on that.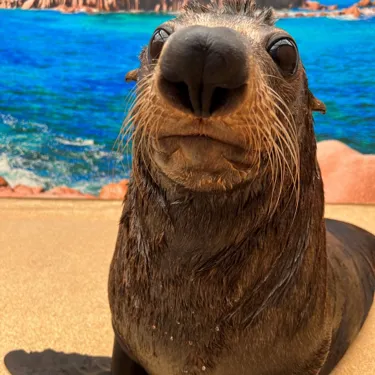 Meet Sly
Sly is the largest of our Long-Nosed Fur Seals here at Seal Island, averaging between 120-150kg! ly was rescued off the Gold Coast due to coming into trouble with a Cookiecutter Shark.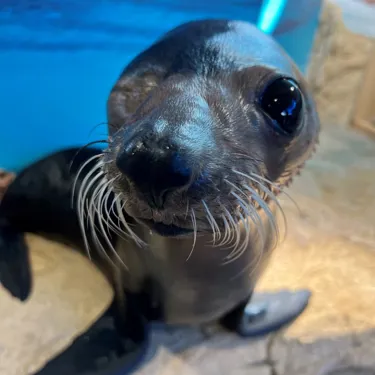 Meet Nelson
Nelson is one of two seals here that only have 1 eye! He was rescued off South Australia with a severe injury to that eye and was placed permanently in our care!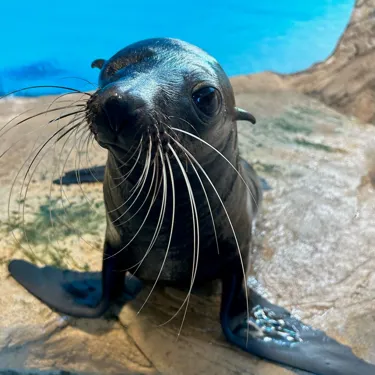 Meet Saturday
Just like Sly, Saturday was rescued off the Gold Coast and is our other 1 eyed seal! She is a Long-Nosed Fur Seal which are the most common fur seal species found in Queensland.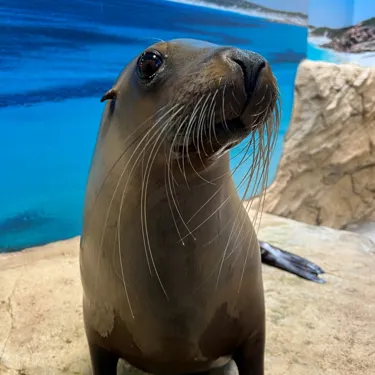 Meet April
April is a beautiful Australian Sea Lion, who was born down at Coffs Harbour as part of a crucial breeding programme for her endangered species.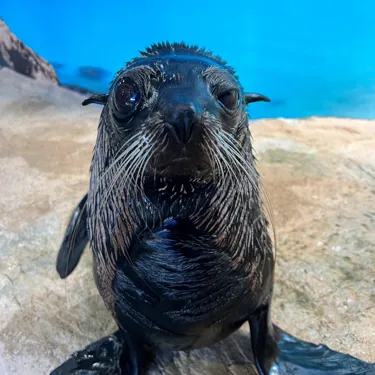 Meet Moana
Moana's eye injury left her sensitive to light and therefore, we were determined to be the best permanent home for her after being rescued off a dog beach at Nambucca Heads in NSW.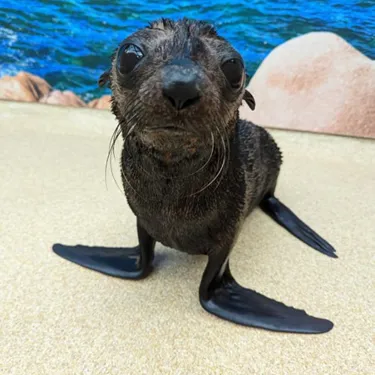 Meet Birubi
Seal Island's youngest resident, Birubi arrived here in 2022 after being born to two rescue seals down at Taronga Zoo in Sydney. Her favourite thing to do is play with her fellow Long-Nosed Fur Seal…
After each seal presentation, we offer the opportunity to come and say, "Hello", to our furry friends and have your photograph taken. You can book the seal photo upon arrival or right after the seal presentation. 
There are also a number of other interactive seal experiences available daily! 
Seal Swim
Seal Encounter
Seal Trainer for a Day
Find out more about our Sunshine Coast Seal Experiences below.
Fun Facts about Seals
Did you know that seals are often referred to as the puppies of the ocean? It's not just a coincidence that both seals and puppies have big, beautiful eyes, whiskered snouts and playful and inquisitive personalities. Read on to find out what they share in common plus more fun facts about seals.
What do seals and dogs have in common? Believe it or not, there's a scientific theory that says seals are related to dogs through evolution! Fascinating, right? It says that a prehistoric, dog-like land mammal began to occasionally hunt for food in shallow waters, then in streams and lakes and, over time, began to transform and develop physical attributes to enable them to survive in the sea. Still to this day, it can be hard to tell the difference between the skulls of certain types of seals, like the Leopard Seal, and large dogs at first glance. 

Seals are expert divers! Elephant Seals can hold their breath for up to TWO HOURS! But how? Well, seals have more blood in their bodies than any other animal and, since oxygen is stored and carried around the body in blood, it allows them to hold their breath for an extra long time. When they dive in search for food, they can also decrease their heart rate by 50-80%. This means Elephant Seals are able to dive up to 900 metres.

Seals are nappers! Unlike humans, seals sleep is short bursts and can take their naps on both land and in the water. It's a convenient skill to have when choosing the best place to close your eyes and avoid dangers. When its warm or they have pups, some seal species tend to choose land for sleeping. When seals choose a watery snooze, they sleep in a position known as bottling. This is where they float entirely underwater except for their snout, allowing them to continue breathing. Some seal species sleep completely submerged, close to the surface of the water, and can close their nostrils to avoid drowning. Pretty clever!
Book online & save
General Admission
Online From
$37.60
Per Adult
Price includes a Digi Photo Pass with 8 digital photos – valued at $26!
Get your ticket on your phone

| | | | |
| --- | --- | --- | --- |
| Ticket Type | Price on the day/School Holidays/Weekends | SAVE 20% - Pre-book online in advance on weekdays | High-demand pricing |
| Adult | From $47 | From $37.60 | $49 |
| Child (3-15 yrs) | From $33 | From $26.40 | $35 |
| Student or Senior* | From $34 | From $27.20 | $36 |
| Family of 4 (2 adult + 2 child) | From $160 | From $128 | $168 |
| Child (0-2 yrs) | FREE | FREE | FREE |

 

*All concession holders must have a valid concession/student to gain access to the attraction with a Student/Senior ticket.

Please note: Our ticket pricing is subject to available capacity and prices may fluctuate during periods of high demand.

Book a day and time to guarantee entry - you will gain entry within half an hour of your designated time slot!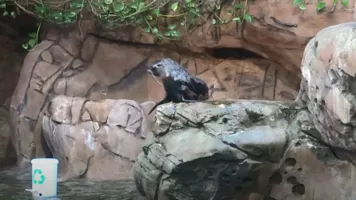 The SEA LIFE Pledge
At SEA LIFE Sunshine Coast, we are committed to protecting Australia's unique aquatic animals and their habitats.
Everything we do is about celebrating the sea. We're passionate about preserving marine habitats and protecting the incredible species that live in them. Marine conservation is at the heart of everything we do- supporting projects across the world that inspire more people to care.
Please make sure to put trash in its place, as wind and rain can carry litter to our streams and our streams feed our oceans.
Reduce, Reuse and Recycle!