Shark Dive Xtreme
Shark Dive on the Sunshine Coast
The Sunshine Coast's most thrilling experience!
The Sunshine Coast's only cage-less diving experience where you are guaranteed an underwater encounter with enormous sharks and rays is back.
The two-hour adventure takes you behind the scenes for a safety briefing and dive training before you take the plunge and find yourself inside the aquarium's iconic Ocean Tunnel!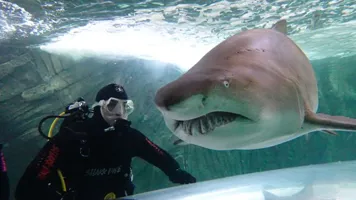 Take the Plunge...
Dive with amazing sharks, giant stingrays and more... now at SEA LIFE Sunshine Coast!
Diving with sharks at SEA LIFE Sunshine Coast is an exhilarating experience, and one of only a few experiences worldwide where you're guaranteed an underwater encounter with sharks.
Our colony of Grey Nurse Sharks range in size to up to 3 metres, and when you do your shark dive with us, you get to enter their domain - without cages!
What is the Shark Dive Xtreme?
With NO PREVIOUS DIVING EXPERIENCE REQUIRED, you'll not only meet Grey Nurse Sharks but also scuba dive with other Sunshine Coast local marine life including massive stingrays (and we mean MASSIVE), Reef Sharks, Wobbegong Sharks and hundreds of amazing sea creatures!
Book early to avoid missing out on this truly amazing and immersive experience!
Never scuba-dived before?
No problem! Shark Dive Xtreme is suitable for first-time divers with no previous diving experience required. This experience is suitable for ages 14+, and a reasonable degree of swimming ability is required to participate. Please ensure you check the restrictions and medical requirements on the SEA LIFE website before booking.  
Shark Dive Xtreme runs on selected dates. Each timeslot can accommodate up to 4 people - so pre-booking is essential.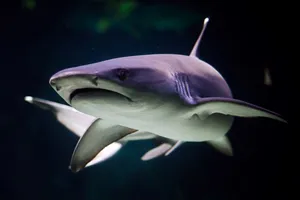 What's Included?
AGES 14+ (under 18s must be accompanied by a participating adult)
Introduction to scuba diving, briefing and training session (approx. 90 minutes)
30 minute dive face-to-face with sharks, giant stingrays and more in our Ocean Tunnel
All dive equipment & wetsuit
'I dived and survived' Shark Dive Xtreme certificate
Entry to explore SEA LIFE Sunshine Coast
You also have the option of purchasing underwater souvenir photos after your dive at an additional cost
Book this experience for a specific date now.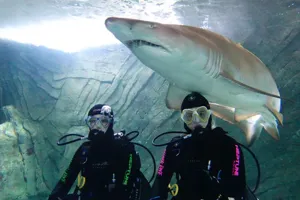 Medical Requirements - Please read before booking
Please carefully read the below list of medical conditions that may prohibit you from taking part in the Shark Dive for your own safety.
Asthma
Heart Disease
Epilepsy
Diabetes
Chest Conditions including Pneumothorax
Sinus Conditions
Ear problems/surgery
High blood pressure
Pregnancy (pregnant women are not permitted to dive)
If you suffer from or have suffered from any of the above medical conditions OR If you suffer from any other medical conditions, including recent injuries, surgeries or psychological conditions then you will be required to obtain a fully completed medical clearance from A QUALIFIED DIVE DOCTOR prior to booking in for the dive.
Participant must be a competent swimmer.
You must also be able to carry up to 40kg of diving equipment. 
Please make sure you read and complete our medical form before booking here.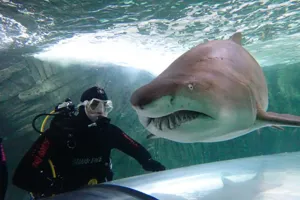 Important Restrictions
Scuba Diving is physically demanding and can be dangerous if you suffer from certain medical conditions. It is very important that you, the diver, do not suffer from any contraindications to diving.
DO NOT DRINK ALCOHOL THE NIGHT BEFORE YOUR DIVE.
DO NOT FLY IN AN AIRCRAFT WITHIN 12 HOURS AFTER YOUR DIVE.
YOU MUST HAVE A REASONABLE DEGREE OF SWIMMING ABILITY.
Please make sure you read our COVID-19 Medical Update here. 
Please make sure you read our medical form before booking here.
Read Shark Dive Xtreme terms and conditions here.
Shark Dive Xtreme Terms & Conditions
FAQs
This is an intimate experience with only 4 people per dive so sessions often book out in advance. To avoid missing out, we recommend booking online.
You must be 14 years or older for our Shark Dive Xtreme. Children under 18 must be accompanied by a parent or guardian who is also participating in the dive..
If you'd like to chat through specific requirements before you book,  please don't hesitate to call us on (07) 5458 6226 to talk to our friendly reservations team. Alternatively you can email us at SLSCReservations@merlinentertainments.com.au  
NORMAL BUSINESS HOURS:
9:00am – 3:00 pm  (Monday-Friday)
Guests will need to bring the following for their dive:
Swimming costume/swimmers
Enclosed footwear
A Towel
Toiletries (you are welcome to use our showers after your dive)
No, but friends and family can take photos through the viewing tunnel. You also have the option of purchasing underwater souvenir photos after your dive.