School Holidays Activities
Join the Family Fun
Looking for things to do these school holidays
Discover what's on these school holidays at SEA LIFE Sunshine Coast
An adventure awaits your kids at SEA LIFE Sunshine Coast's underwater world. Each school holidays, our Mooloolaba aquarium hosts fantastic kids activities packed full of learning and fun. Come and see us and our marine creatures, for the perfect family day out!
Scroll down to find out about our:
PAW Patrol: The Mighty Movie Adventure
Sunshine Coast's only colony of Little Blue Penguins
The world famous Seal Presentation 
Penguin Encounter
Shark Dive Xtreme
Free school holiday activities
Aquarium Sleepovers
PAW PATROL: THE MIGHTY MOVIE ADVENTURE
Dive into SEA LIFE Sunshine Coast and help the Mighty Pups rescue the missing sea creatures from the supervillains to celebrate the release of PAW Patrol: The Mighty Movie, in cinemas September school holidays.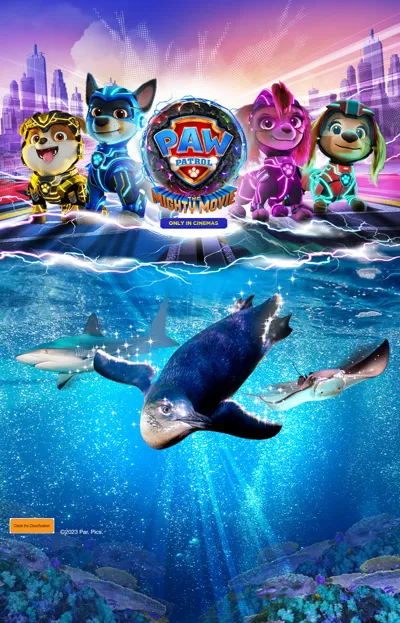 Over the school holidays families can pounce into action to help Chase, Skye, Marshall, and the rest of the Mighty PAW Patrol as they embark on a thrilling underwater mission to save the day. An artefact table and interactive trail leading to hidden clues, will send young adventurers on a journey to uncover the unique superpowers of their favourite sea creatures, while helping the Mighty Pups in their courageous mission.
With prize packs and movie tickets to be won, families can use teamwork, problem-solving skills, and the spirit of the Mighty PAW Patrol to fulfill their mission.
Little Blue Penguins: Only at SEA LIFE Sunshine Coast
Meet the little penguins and explore an underwater wonderland!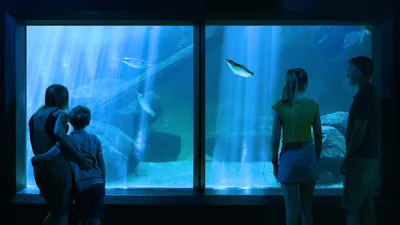 Waddle into SEA LIFE Sunshine Coast (formerly Underwater World) and meet the little blue penguins!
The Little Blue Penguins zone will immerse guests in the wonderful world of the smallest penguin species. The aquarium's new exhibit will take guests on a journey from an above ground observation deck to an underwater vantage point for an incredible insight into the life of a little penguin.
Guests can also get up close with heaps of other fascinating sea creatures and take part in the famous Seal Presentations! SEA LIFE Sunshine Coast's team of experts host regular talks throughout the school holidays to share their passion for marine life and enlighten families with interesting facts about sea stars, rays, jellyfish and
countless other amazing aquatic animals.
Guests can take part in a range of additional experiences on offer during the school holidays, such as:
Behind the Scenes Tour:
Get an exclusive look behind the scenes to learn what goes into the day-to-day running of the aquarium. Speak to a marine expert to hear how the team cares for the sea creatures and learn more about the turtle rescue and rehabilitation program. 
Seal Encounter:
Come face to flipper with one of the beautiful seals. Get a photo taken to remember the experience and chat to the team to learn about these amazing marine mammals. 
Seal Swim Experience:
Get to know the playful seals by swimming alongside them in their pool! Meet the passionate team members and learn how they care for the beloved seals. 
Penguin Encounter
Get up close to our playful penguins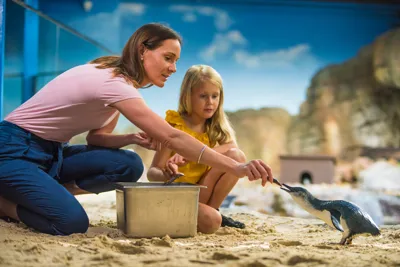 Step inside the Little Blue Penguins' habitat at SEA LIFE Sunshine Coast for the Penguin Encounter, where you can meet our adorable colony of birds and hand feed them a fishy feast!
The additional experience allows guests aged 5+ to step inside the penguins' habitat to feed the cheeky little birds, go on a behind the scenes tour and discover how the dedicated team care for each of the penguins.
Shark Dive Xtreme
Shark Dives are back at SEA LIFE Sunshine Coast!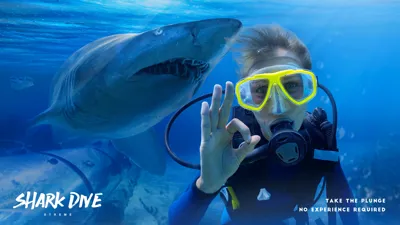 The Sunshine Coast's only cage-less diving experience where you are guaranteed an underwater encounter with enormous sharks and rays is back.
The two-hour adventure takes you behind the scenes for a safety briefing and dive training before you take the plunge and find yourself inside the aquarium's iconic Ocean Tunnel!
Marine Biologist For a Day Program
THIS EXPERIENCE IS CURRENTLY NOT AVAILABLE!
Ever wondered what it's like to work at a cool aquarium like SEA LIFE Sunshine Coast? Well, now your kids have the chance to see what it's all about. Our Marine Biologist for a Day school holiday activity program takes them behind the scenes to hang out with one of our marine experts!
While parents are welcome to attend the program with their children, we find that our little Marine Biologists thrive even more when given the responsibility of being left alone with our staff for their very own adventure.
Drop the kids off at our aquarium for a full or half day program. View the details for each program in the tabs below.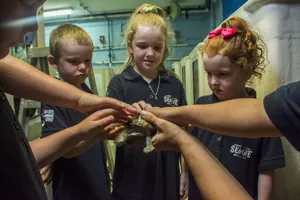 What's Included?
The Marine Biologist school holiday activity includes:
Admission to SEA LIFE Sunshine Coast
Morning Tea
Lunch & afternoon tea (FULL DAY program)
VIP seating at our Seal Presentation
A guided tour around the aquarium with a marine expert
A cool Behind the Scenes Tour
An exclusive chat with one of our divers (FULL DAY program)
Interactive animal handling and feeding
A 'Marine Biologist for a Day' certificate
Souvenir green-screen photo to remember the fun!
Places are limited. Book early so your child doesn't miss out!
More Info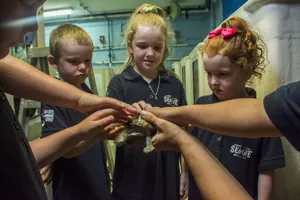 Half Day Program (8:30am - 12:30pm)
AGES 5 TO 8
8.30am – Meet your Education Officer, check in, put on T-shirt & name tags
8.45am – Get started on a tour of the aquarium
9.30am – Help our aquarists with some of the animal feeds
10.00am – Behind the Scenes Tour and Turtle Hospital
10.30am – Morning Tea at the Seal Show
11.00am – Animal handling and explore the soft play area.
12.30pm – Collect photos, finish up and meet back with parents our front
More Info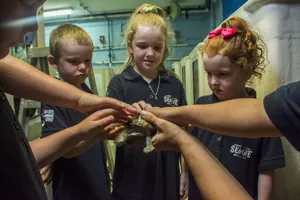 Full Day (8:30am - 2:30pm)
AGES 9 TO 12
8.30am – Meet the Education Officer, check in, put on T-shirt & name tags
8.45am – Get started on a tour of the aquarium
9.30am – Meet the divers and chat about what they get up to on a daily basis
10.00am – Behind the Scenes Tour and Turtle Hospital
10.30am – Morning Tea at the Seal Show
11.00am – More tours around the aquarium and help with animal feeds
12 noon – Lunch time
12.30pm – Animal handling session and play with interactive screens
1.30pm – Afternoon tea and underwater seal viewing
2.00pm – Collect photos and last chance to play/explore
2.30pm – Finish and meet back with parents out front
More Info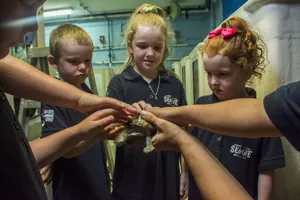 2020 Program Dates
JANUARY
Monday 13th
Wednesday 15th
Friday 17th
Monday 20th
Wednesday 22nd
Friday 24th
APRIL
Monday 6th
Wednesday 8th
Friday 10th
Wednesday 15th
Friday 17th
JUNE
JULY
Wednesday 1st
Friday 3rd
Monday 6th
Wednesday 8th
Friday 10th
SEPTEMBER
Monday 21st
Wednesday 23rd
Friday 25th
Monday 28th
Wednesday 30th
OCTOBER
DECEMBER
Monday 14th
Wednesday 16th
Friday 18th
Monday 21st
Wednesday 23rd
More Info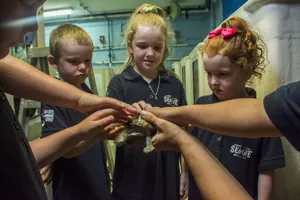 More Info
Please note, times are subject to change according to show times and our staff and animal availability. 
Group size is a maximum of 10 children. 
A minimum number of 7 children is required for this program to run.
Download the Marine Biologist for a Day Info Kit below.
Download Info Kit
My very shy 8 year old did the Marine Biologist half day. So worth the money. What an experience for my son we will back to do the full day. Thank you from one very nervous mum who left her son in your capable hands. You guys are awesome.
Our daughter had an amazing time today being a marine biologist for the day program. She has not stopped talking about her experience yet. Thank you for a wonderful program.
My 8 year old had a great time being a Marine Biologist! We will definitely be booking in again for the Christmas holidays! All the hands on activities with the animals was amazing!
Sleep Under the Sharks
You're Invited to Sleepover at Our Aquarium!
When all the daytime staff have gone home for the night, and most of the lights are switched off, you can come and see what the critters and creatures get up to when they think no one is watching!
With the Sleep Under the Sea experience you'll have the opportunity to sleep inside our oceanarium tunnel with sharks and giant rays swimming above you, and participate in a range of great aquarium activities without the daytime crowds.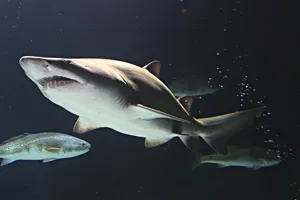 Sleeping Arrangements
Sleeping under our 80 metre long Ocean Tunnel is definitely one of the highlights! It is divided into 3 different areas – The Shark Shipwreck, Coral Cove and Bay of Rays.
Watch our animals get active at night as the blue coloured night lights come on. Or see if you can spot our Grey Nurse Sharks resting on the glass above you.
Did you know that some species of shark and fish never stop swimming?! They don't sleep like we do, so chances are you will see their shadowy figures moving around all night long.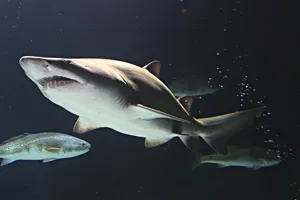 Evening Schedule
4:00pm - Registration, afternoon tea and mixer activity
5:00pm - Seal Presentation at Seal Island
5:20pm - Ocean Tunnel tour
6:00pm - Dinner is served in the Octopus Garden Cafe
7:00pm - Visit and say g'night to Marge, our resident croc
7:20pm - Visit our favourite aquarium habitats
7:50pm - Behind the Scenes Tour and shark feeding activity
8:45pm - Night trail
9:00pm - Bed time
Between 4:00pm and 6:00pm, guests have the option of free time to explore SEA LIFE or to participate in the above schedule.
This is an approximate timetable only.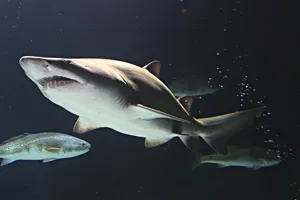 Morning Schedule
6:00am - Rise and Shine
6:15am - Pack up beds and bags
6:30am - Breakfast at Octopus Garden Cafe
7:30am - Explore Rockpools and touch a sea star!
8:30am - G'bye from our staff and depart SEA LIFE
This is an approximate timetable only.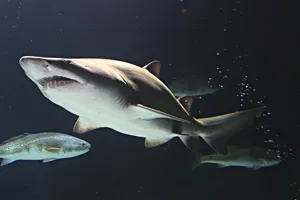 Food & Beverage Menu
AFTERNOON TEA
Milo
Tea
Fresh filtered coffee
Choc chip cookie
 DINNER
Beef burger with salad
Hot chips
Paddlepop ice cream
 BREAKFAST
Selection of cereals
Toast and condiments
Fruit salad cups
Yoghurt
PLEASE NOTE: Special dietary requirements can be catered for, however please make sure these are provided to our reservations team upon booking.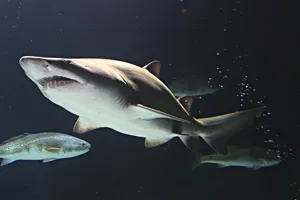 What to Bring
Pillow and sleeping bag/blanket (sleeping mats provided)
Toiletries (please note, no showers available)
Sleeping clothes
Clothes for the next day
Water bottle (optional)
Eye mask if you're a light sleeper
Camera to capture our creatures after dark
Your sense of adventure!