With 11 themed zones, visitors have the opportunity to explore a unique underwater world at SEA LIFE Sunshine Coast. Waddle into the world of our brand new Penguin exhibit or get hands on in the Tidal Touch Pools. You can also enjoy the wonders of Seahorse Sanctuary, or catch the famous Seal Presentation at Seal Island. And don't forget to help us Coral Play.
Waddle into the World of Penguins
Discover Sunshine Coast's only colony of Little Blue Penguins as they march, dive, swim & play. The brand new Little Blue Penguins zone will immerse guests in the wonderful world of the smallest penguin species. Take a journey from an above ground observation deck to an underwater vantage point for an incredible insight into the life of a little penguin.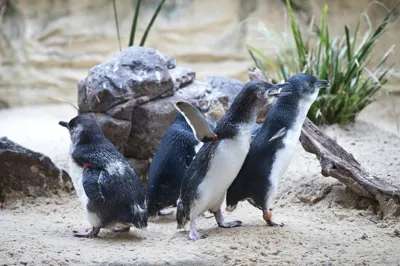 Get Interactive at Lower Penguins
Dive beneath the surface and watch the little blue penguins swim and play from the under water observation deck. Then take the challenges in the interactive zone and learn all there is to know about these amazing creatures, what threats they are facing in the wild and the action we can take to protect them.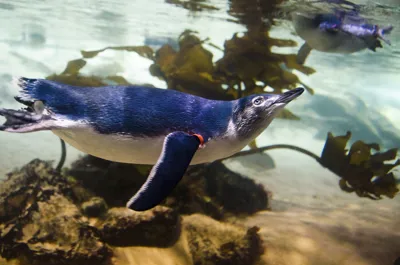 Explore the Ocean Tunnel
Explore the depths of the ocean as you walk beneath our 80 meter long Ocean Tunnel. View sharks, rays, reef fish and much more! With over 8 species of sharks and brand new Grey Nurse Sharks being back, sharks are definitely a favourite for most people visiting SEA LIFE Sunshine Coast. So don't miss out and come and see our Jawsome Sharks!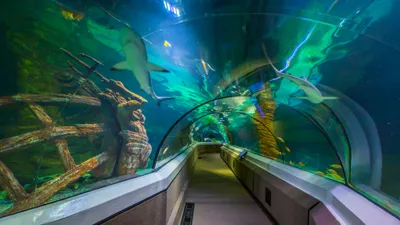 Prepare for Seal-iness at Seal Island!
Something 'fishy' is happening on Seal Island at SEA LIFE Sunshine Coast! Our amazing Seal Presentation is full of surprises and maximum seal-iness! As if there wasn't already enough fun at Seal Island with daily presentations you can get even closer! Discover the true sight, smell and sound of our seals through the fun and educational interactives located in the lower seal viewing as you watch and learn about our resident seals.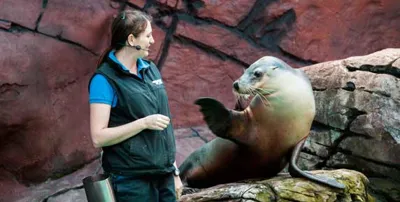 Get in Touch with a Sea Star at Tidal Touchpool
Discover our amazing marine animals in the Tidal Touchpools! Roll up your sleeves! Get your hands wet in our interactive touch pool display. See and touch an array of marine life that can be found in local tide pools, including beautiful sea stars, sea cucumbers and much more. Tidal Touchpool offers an interactive experience, where our expert education team are on hand to teach you all about the wonders of marine life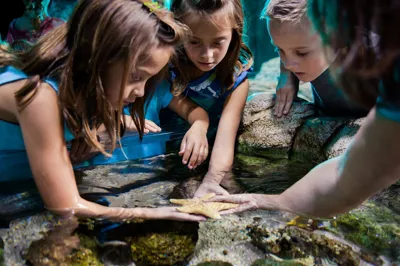 See Australia's Coastal Creatures in Coastal Wreck
Discover our amazing and mysterious Coastal Wreck, and learn about the many species that inhabit the coral reefs around Australia. Australia's oceans are rich with marine wildlife, and here, amongst a shipwreck environment you can discover a variety of animals which are found in Australia's coastal waters such as the Lionfish, Eels, the Common Octopus and other tropical fish.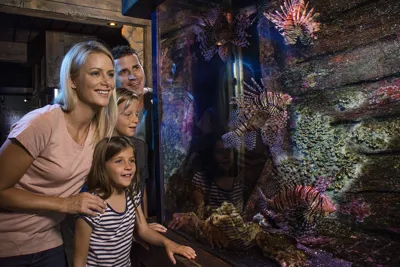 Coral Play
Challenge your family and friends to different fun activities, including the EAC Race, the Anemone Challenge and the Echo Locator Maze.
Explore Jellyfish Kingdom
Jellyfish Kingdom features fascinating jellyfish species to encounter. Did you know that jellyfish have lived in oceans for over 650 million years? That means they're older than dinosaurs and even sharks! See these majestic animals up close, marvel at their infinite colours, graceful motion and ghost-like forms.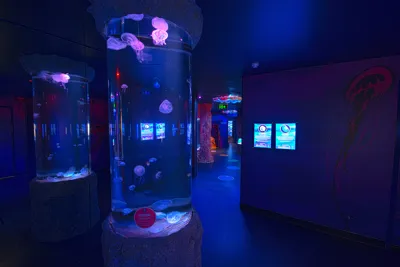 Look Beneath the Surface at Lower Seal Island
Have a close look at our playful seals underneath the water. This is the best way to really watch their agility, speed and natural behaviour under water.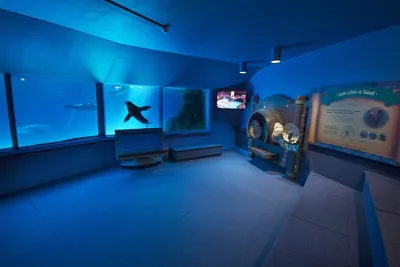 Explore Our Seahorse Sanctuary
Meet the some of the most amazing marine creatures in the world right here in Seahorse Sanctuary. Have a close look at our Weedy Sea Dragons and Pot-bellied Seahorses. Be entranced by their delicate movement. Be mesmerised by their courtship dances; and be wowed by these wonders of nature!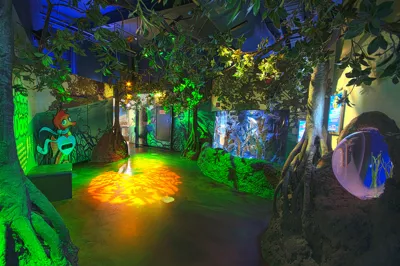 Multilevel Play Zone Shipwreck Shores
Shipwreck Shores is a three-level indoor play zone featuring a themed twisty slide, climbing frames and fun obstacles. The shipwreck-themed structure, which is included in the admission price is guaranteed to keep the kids entertained for hours. Real life shipwrecks provide rich new habitats for creatures to grow, and like them, our shipwreck themed playground is a place of fun and adventure, if you look hard enough you may discover hidden natural wonders!