Turtle Rehabilitation
Since opening in 1989 SEA LIFE Sunshine Coast (previously Underwater World) has rescued many turtles from beaches throughout Queensland. However this would not have been possible without the commitment and assistance of volunteer groups and individuals who bring turtles to the aquarium for rehabilitation.
Wild rescued turtles regularly come and go as we always aim to release the turtle back to the ocean. These animals can arrive in poor condition and require intensive care from our animal care team, therefore for the best chance to see our current rescued sea turtles, book into a Behind the Scenes Tour (places limited).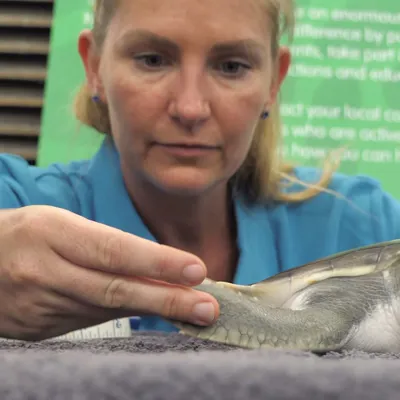 Turtles in Trouble
When dinosaurs roamed the Earth more than 150 million years ago turtles were plentiful. Of the world's seven species of marine turtles, six are found within Australian waters! Sadly, all six species are listed as either endangered or vulnerable to becoming extinct….our turtles are in trouble!
SEA LIFE Sunshine Coast has taken a proactive role in the rescue, rehabilitation and release of marine turtles to ensure that they are conserved and sustained for future generations.
There are many reasons why turtles are being rehabilitated here at SEA LIFE Sunshine Coast. The majority of which are human related impacts including eating rubbish particularly plastics which cause 'floating syndrome', boat strikes and entanglements by discarded fishing equipment and crab pots.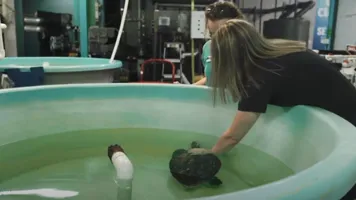 Visit the Turtle Hospital
SEA LIFE Sunshine Coast's Turtle Rehabilitation Centre is behind-the-scenes at the aquarium due to the high level of care the team members need to provide each individual turtle and the Queensland Government directive not to display injured turtles at this time. 
Visit the back-of-house turtle rehabilitation area during the Behind the Scenes Tour and see how we're helping to nurse sick and injured turtles back to health.
Places are limited, so pre-bookings are essential!
Some of the turtles that come through our Turtle Hospital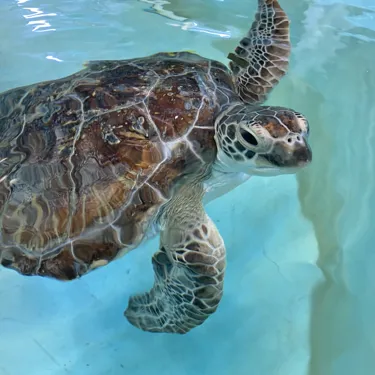 Green Turtle
The Green Turtle is the largest hard-shelled sea turtle. Adult shell colour varies from grey to green or even brown. Often, shells have bold streaks or spots and their undersides are usually white.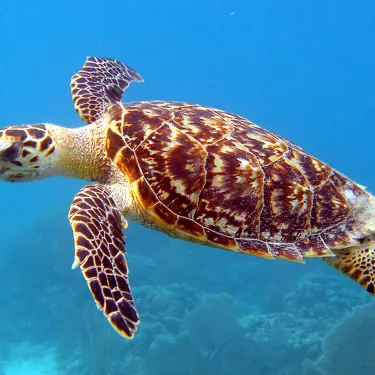 Hawksbill Turtle
Hawksbills are named for their narrow, pointed beak. They also have a distinctive pattern of overlapping scales on their shells that form a serrated-look on the edges.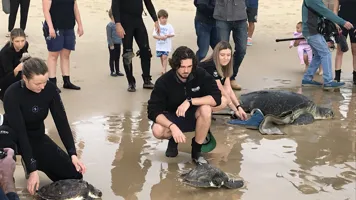 Turtle Release
The rescue, rehabilitation and release of sea turtles is a reminder of the need to protect and conserve our marine wildlife. Human impacts such as habitat degradation and plastic pollution are particularly harmful to turtles in Queensland.
Book online & save
General Admission
Online From
$37.60
Per Adult
Price includes a Digi Photo Pass with 8 digital photos – valued at $26!
Get your ticket on your phone

| | | | |
| --- | --- | --- | --- |
| Ticket Type | Price on the day/School Holidays/Weekends | SAVE 20% - Pre-book online in advance on weekdays | High-demand pricing |
| Adult | From $47 | From $37.60 | $49 |
| Child (3-15 yrs) | From $33 | From $26.40 | $35 |
| Student or Senior* | From $34 | From $27.20 | $36 |
| Family of 4 (2 adult + 2 child) | From $160 | From $128 | $168 |
| Child (0-2 yrs) | FREE | FREE | FREE |

 

*All concession holders must have a valid concession/student to gain access to the attraction with a Student/Senior ticket.

Please note: Our ticket pricing is subject to available capacity and prices may fluctuate during periods of high demand.

Book a day and time to guarantee entry - you will gain entry within half an hour of your designated time slot!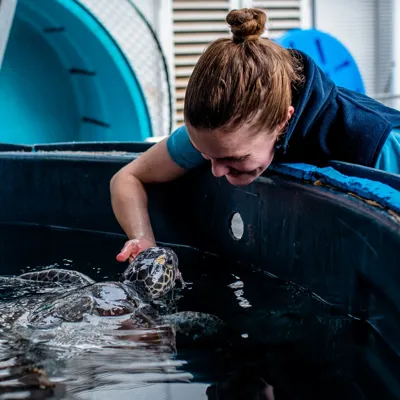 Who to call if you find a sick turtle needing help?
If you see a turtle that is sick, injured or in distress contact the Queensland Parks and Wildlife Service (QPWS) on 1300 130 372.
If you want to find out more, you can also contact the organisations below: