Introducing a beautiful children's bedtime story that will make a REAL difference to sea turtles
Wednesday 5th May 2021
Conservation, Turtles, Kelly Tarlton's Marine Wildlife Trust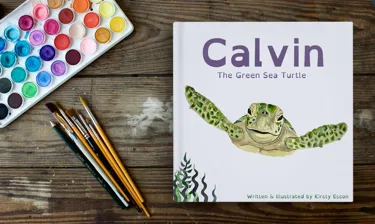 This World Turtle Day, purchase a storybook with a difference to help support the Kelly Tarlton's Marine Wildlife Trust in their endeavour to help care for sea turtles in the wild.
This gorgeous story, written and illustrated by Kirsty Esson – artist, turtle lover and SEA LIFE team member – tells true the story of Calvin, a turtle that came into the care of our Turtle Hospital.
The stunningly illustrated bedtime story explores the dangers that turtles face in the wild and how Calvin was cared for and released back into the wild.
Touching on themes of adventure, hardship, courage and the nurturing care of those who looked after Calvin, this story is for any children who love turtles and want to learn how they too can help these majestic creatures in the wild.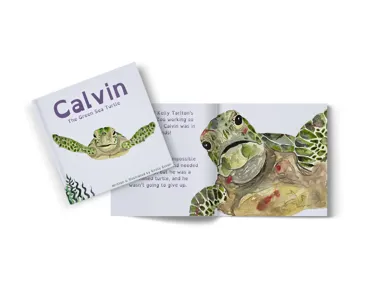 Calvin the Green Sea Turtle will be for sale online with General Admission ticket purchase from 23rd May or alternatively, you can pick up a copy on you way out via our gift shop.
Retailing at just $15, 100% of profits from the sale of this book will be donated to registered charity the Kelly Tarlton's Marine Wildlife Trust who will in turn utilise the funds on conservation campaigns, scientific research and inspiring education – all in the name of the sea turtle.
The books will be for sale from 23rd May 2021 – World Turtle Day - for a limited time only so buy now so you don't miss out!
The book is also available as a part of a beautiful set in collaboration with other Australian SEA LIFE attractions including SEA LIFE Sydney Aquarium, SEA LIFE Melbourne Aquarium and SEA LIFE Sunshine Coast.