Waddle in to see the new babies!
Wednesday 15th December 2021
Penguins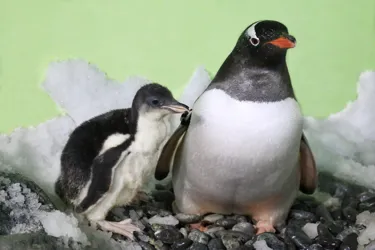 All we want for Christmas is a new baby penguin!
New Zealand's only colony of Sub-Antarctic penguins has welcomed two new arrivals! The Gentoo penguin chicks hatched at SEA LIFE Kelly Tarlton's Aquarium last month and can be spotted nestling under their parents in their icy domain.
The first new arrival was a Halloween chick who hatched on 31 October, weighing 80 grams. This sweet little chick spends most of it's day keeping cosy under the care of foster parents Oscar and Melody.
The second arrival (picture above) hatched on 01 November, weighing 81 grams, and is being cared for by it's biological parents Tux and Lola. Mother Lola has a special habit of decorating her nest with chunks of ice, and as the chick has been getting bigger the team have seen it playing with these chunks of ice, much to the parent's delight. Like mother, like baby!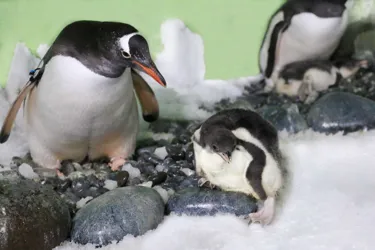 "We've had two wee Gentoo chicks hatch and are totally enamoured with our latest arrivals. We haven't decided on names yet as we are waiting for their little personalities to start shining through," said Laura Seaman, Penguin Team Leader.
Gentoo penguins are the third largest penguin species, known for their charisma and swimming abilities. It won't be long before the new chicks have fledged and can begin learning how to swim. Waddle in to see the babies these school holidays!
School Holidays Opening Hours
We will be open seven days per week during the school holidays including Christmas Day. All visitors must pre-book their tickets online in advance. 
Visit our Health & Safety page prior to your visit.
Pre-book Now
If you are an Annual Pass holder, please use the 'Annual Pass Pre-book' option to pre-book.
If you are holding Open-dated tickets or third party General Admission tickets; please use the 'Ticket Pre-book' option to pre-book. 
Get on-the-ice and meet the penguins!
Our Penguin Passport Encounter lets you get on-the-ice inside the penguin enclosure. Get up close and personal with our friendly sub-antarctic penguin.
Click here to find out how you can book this experience for yourself or how to get a gift voucher for someone you love.