Saving the Macquarie Perch
Macquarie Perch 'Macquaria australasica' ('Maccas') were once an abundant and widespread native fish species throughout the south-eastern Murray-Darling system. However, Maccas are now nationally endangered and are fighting for their survival, with serious implications for Australia's freshwater biodiversity. Australia-wide only a handful of self-sustaining wild Macca populations exist.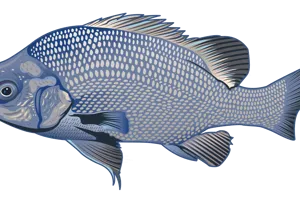 Getting to know the Maccas!
Macquarie Perch: 
Other names: Mountain perch, Murry bream, White-eye, Murry perch, Grunter.
Age: Long-lived species up to 26 years
Size: Up to 35-40 cm and 3.5 kg 
Size at maturity: 21-30 cm (2-3 years of age) 
Distribution: South-eastern Murry Darling Basin 
Habitat: Rivers (mainly mid and upper river ranges) and lakes (with spawning streams) 
Diet: Inspects and crustaceans
National conservation status: Endangered 
Why is the Macquarie Perch threatened?
Key threats to the survival of the species include:
Loss of connectivity and barriers to fish passage as a result of water regulation (construction of dams, weirs)
Changes in natural flows and cold-water impacts
Loss of habitat, riparian vegetation and impacts on river health
Climate change and extreme weather events (such as drought and bushfires)
Populations were severely impacted by the 2019-20 black summer bushfires, through a loss of streamside vegetation and an increase in sediment and silt into the waterways. This loss of habitat has resulted in reductions in fish numbers and spawning habitat, reducing breeding opportunities and the ability of the species to recover without our help.
What Fisheries and SEA LIFE Melbourne are doing to help
This project will use a partnership approach and combine habitat restoration efforts, with restocking and community engagement to enhance the recovery and maximise the resilience of Macquarie perch populations in bushfire affected areas.
Together the aim is to:
Restore streamside and instream fish habitat for remnant and restocked Macquarie perch
Improve the breeding of the species at Snobs Creek fish hatchery to restock Macquarie perch into bushfire affected rivers including the Buffalo River, King River and Cudgewa Creek
Connect and engage the community including local Landcare groups, Traditional Owners, angling clubs and other groups in bushfire recovery for Macquarie perch.
How can you help?
Connect with Fisheries and join their Recovering Maccas Facebook page/newsletter to stay up to date 
Register to contribute to volunteer habitat efforts
Register to attend Macquarie Perch stocking events
Consider how you can help us reach co-investors to help recover the Macquarie Perch
Learn more
The Story of the Macquarie Perch
For more details on how Fisheries and SEA LIFE Melbourne are supporting the efforts to Crack the code and save the Maccas, Enjoy this video on the story of the Macquarie perch and the fight to save the species from extinction!