One of the Australia's Biggest Crocodiles 
Measuring in at just under 6 metres and weighing over 750kg, Pinjarra, our 65-year-old male Saltwater Crocodile is a spectacular sight to behold!
Our Mega Croc, Pinjarra, will not only make you gasp, "WOW!", he helps our team at SEA LIFE to further educate guests on the ecological significance of the Saltwater Crocodile and the need for conservation. Saltwater Crocodiles are essential in maintaining the diversity of wetlands. As an apex predator, they prevent the degradation of ecosystems by preventing overpopulation. Saltwater crocs almost went extinct in the 1970's due to poaching, however, now thanks to breeding programs and protection laws, they are now listed as least concern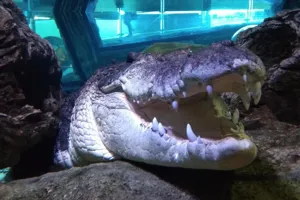 Crocodile Fun Fact
Have you ever seen a crocodile resting on land with its mouth open? Believe it or not, baring its teeth like this isn't a sign of an angry crocodile. Crocodiles will often show this type of behaviour in the hot Summer months. They can't cool down like we do by sweating, so they do it by circulating cooler air around their mouths similar to how dogs pant.
There's nothing better than seeing an awe-inspiring creature like a crocodile up close. Come and meet Pinjarra face-to-face at SEA LIFE Melbourne Aquarium!