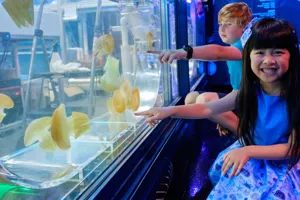 Melbourne's most unique school excursions
The SEA LIFE Melbourne Aquarium Education team are experts in Science and Inquiry learning, blending STEM studies with Marine Education. We offer a variety of Self-guided and Guided programs from Early Childhood right up to Tertiary groups.
The amazing animals on display provide a unique education resource, allowing students to explore marine life with hands-on opportunities, assisting them to further their understanding in biology, habitats, adaptations, conservation and so much more! With over 13 different unique exhibits home to hundreds of amazing and wonderful marine creatures, SEA LIFE Melbourne Aquarium allows students the chance to get up close and personal with animals from all over Australia.
Our specialised education space gives students the chance to take on the role of research scientists, with opportunities for hands-on experiments and activities that align with the Victorian Curriculum. Our Guided programs are delivered by passionate educators, who inspire and engage students every step of the way!
Our 2 hr Self-guided sessions allow you to visit exhibits at your own pace and create a program to suit your student's current area of study. Select from the options below to find the best fit for your group.
We offer 3 different types of excursions here at SEA LIFE Melbourne; Self-Guided, curriculum based Guided Education classes and Guided Aquarium Experiences.
Select from the options below to find the best fit for your group.