Educational Programs for Everyone
SEA LIFE Melbourne is committed to delivering amazing experiences for all our visitors and ensures it is accessible for people with all needs. Our Educators understand that each class differs from the next and can work together with teachers to provide a jaw-some experience for any educational group.
Self-guided tours allow groups to explore SEA LIFE Melbourne at their own pace, having the flexibility to focus on areas of their choice. Alternatively, our Educators can take your group on a more general, explorative Guided tour of the aquarium, differentiating the learning to best suit your school group. 
See below our most frequently asked questions for special or additional schools. If you have any additional questions about school groups or an upcoming excursion, please complete the online booking form with extra details on your group in the 'Notes' section.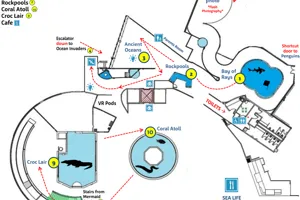 Sensory Friendly Map
Download our sensory friendly map to help you plan your visit. Details are provided on elements such as access, lighting and noise levels to help you assess the best way to explore and enjoy our aquarium. Click below for the full map including all levels.
Download Here
FAQs for Special Needs Visitors
Each floor of the aquarium is accessible via either a lift or a ramp. If you do require a wheelchair, we have several that are available to borrow during your excursion (subject to availability). Please note this in your booking enquiry in order for it to be booked in advance.
It is recommended to book during the week (outside of school holidays) after 2pm for Self-Guided. There will be varying levels of lighting and music throughout the attraction to enhance the visit. If preferred, your student/s may want to bring noise blocking headphones to assist with sensory overload.
If you have booked for a Guided program, please inform your Educator who will be able to assist you. Alternatively, if a self-guided group needs to leave the Aquarium to break away from the large crowds, please let a staff member know and they will escort you to the nearest exit.  Staff members are constantly roaming the building and there are also members able to assist at Rockpools, Café and Magic Memories at the Penguin Playground.
When booking your excursion, let our Education Team know that you will be requiring a bus permit.  This permit can get collected upon arrival and allow extended parking on Aquarium Drive off Flinders Street.
There are accessible toilets available for your convenience which are located at the entrance, beside the café and at the exit near the gift shop.
When completing the online booking enquiry, please note that you would like to come in prior to your excursion to conduct a risk assessment and we can organise a suitable time for you or another teacher to come through. You can also contact us at education@merlinentertainments.com.au to discuss arranging this. Note that a pre-visit must be organised with the Education Coordinators in advance and a VIT card must be shown on arrival.