More Fun, For Less!
Visit our friends in the forest at Otway fly for only $10! This exclusive offer provides a massive saving of up to $15 per person!
Otway Fly Treetop Adventures is located near the Great Ocean Road (3.5 hours from Melbourne). View the rainforest floor from towering heights on the 600m long, 25m high elevated walk way. Don't miss the 45m Spiral Tower and moving cantilever.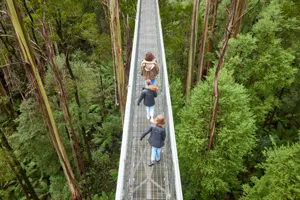 TREETOP WALK
The 600 metre-long, 25 - 30 metre-high elevated walkway provides unrivalled views of the unique beauty of the region's flora and fauna, from the rainforest floor up into the soaring heights of the treetops.
Don't miss the 47 metre tall Spiral Tower and the cantilever perched above Young's Creek – a truly exhilarating experience as you gently sway with the rainforest canopy.
Learn more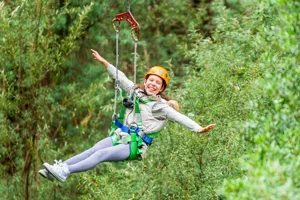 ZIPLINE TOURS
Attention Adrenaline seekers! Fly down our Zipline course, a unique eco-wilderness adventure. Participants zip from one 'cloud station' to another connected by cables up to 30m above the forest floor. This exciting adventure lasts 2.5 hours and is guided by experienced guides. Guides will provide you with an insight into the forest's history and its features and provide you with an experience you won't forget! Visitors will see the trees and forest in a new light and learn about this growing and vibrant rainforest.
* Zipline is at an additional cost. Subject to availability.
Learn more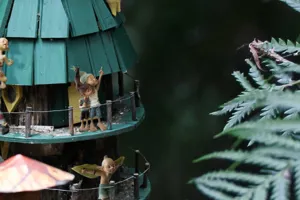 JOURNEY THROUGH THE ENCHANTED FOREST
Discover the magical enchanted forest featuring fairies, dragons and more! 
Fitted with a whimsical neighborhood of fairy homes and their magical inhabitants, snuggled within a magical nook in the Otway Fly Treetop Adventures trail.
Which path will you take? Will you follow the dragon's footsteps and discover what's landed in the dragon's nest?
Learn more
Frequently asked questions
- Must have purchased a SEA LIFE Melbourne ticket.
- MUST Present SEA LIFE Melbourne ticket at OTWAY Fly admissions for entry. If bought without a SEA LIFE ticket, you must either pay for a full-priced ticket or be denied entry.
- Ticket must be used within 12 months from the date of purchase.
- It is valid for an individual aged 3+.
- Only valid for treetop walk, Zipline is at additional cost and subject to availability.
you MUST purchase a SEA LIFE Melbourne ticket before you purchase our $10 Otway Fly upgrade. Once at Otway Fly, present your SEA LFE Melbourne ticket at admissions for entry into Otway Fly. 
note: without the SEA LIFE ticket entry will be denied.