Shark Dive Xtreme
Are you ready to take the plunge?
Are you ready to dive in?
A face-to-fin experience like no other; our Shark Dive Xtreme is the only place in Melbourne you can get up close to multiple species of sharks!
This experience is open to first timers, teens and adults (minimum age 14).
As part of your experience, you will get an exclusive look behind the scenes and see what happens in our Aquarium's staff only areas and also includes all day admission at SEA LIFE Melbourne aquarium!
This is the perfect birthday gift, date, anniversary or thrill to share with friends and family. What are you waiting for?
Book now as we are selling fast for 2022!
What is Shark Dive Xtreme
A face-to-fin experience like no other; our Shark Dive Xtreme is a rare diving experience where you are guaranteed an underwater encounter with sharks. 
Dive in to meet, Sandbar Whalers, Largetooth Sawfish, MASSIVE rays, Queensland Groupers, multiple species of Cod and more. Some of our sharks are up to 2 metres in size!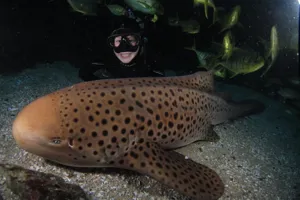 Whats Included?
AGES 14+
60 minute introduction to scuba diving, briefing and training session 
30 minute dive time with our creatures of the deep
All dive equipment & wetsuit
All day admission to explore SEA LIFE Melbourne Aquarium
Book this experience for a specific date now or purchase a shark diving gift voucher valid for 3 years from date of purchase.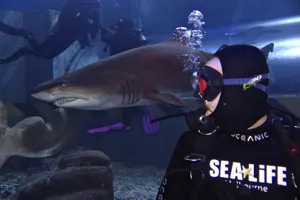 Further Details
Please carefully read the below list of medical conditions that may prohibit you from taking part in the Shark Dive for your own safety.
Asthma
Heart Disease
Epilepsy
Diabetes
Chest Conditions including Pneumothorax
Sinus Conditions
Ear problems/surgery
High blood pressure
Pregnancy (pregnant women are not permitted to dive)
If you suffer from or have suffered from any of the above medical conditions OR If you suffer from any other medical conditions, including recent injuries, surgeries or psychological conditions then you will be required to obtain a fully completed medical clearance from A QUALIFIED DIVE DOCTOR prior to booking in for the dive.
Please make sure you read and complete our medical form before booking here.
Was the best experience would recommend it to anyone the sharks were so magical and peaceful had a awesome time!!
Everything is unreal, the animals are breathtaking and the divers really know their stuff! 10/10
Got this experience as a gift for Father's Day. I cannot recommend doing this enough. It's a definite must do.
We still can't stop talking and telling everyone about how amazing the experience was! Would totally recommend it to everyone! Definitely do it as I would do it again in a heartbeat.
Important Information
All divers must be able to speak and understand English as well as have a reasonable degree of swimming ability. 
Scuba Diving is physically demanding and can be dangerous if you suffer from certain medical conditions. It is very important that you, the diver, do not suffer from any contraindications to diving.
Please make sure you read our medical form before booking here.
Read Shark Dive Xtreme terms and conditions here.
If you require medical clearance from a SPUMS certified physician please download this form and take to your appointment. 
FAQs
This is an intimate experience with small groups per dive so sessions often book out in advance. To avoid missing out, we recommend booking online.
You must be 14 years or older for our Shark Dive Xtreme. Children under 18 must be accompanied by a parent or guardian.
Yes you can! Head to our Merlin Annual Pass page to purchase a discounted Shark Dive Xtreme. It's a special price just for pass holders.
Send us an email to redeem your gift voucher and book in your experience!
Email: experiences@melbourneaquarium.com.au 
We will endeavor to get back to all enquiries within 24 hours, Tuesday to Saturday.
For any enquiries regarding your booking please email our SDX team.
Email: experiences@melbourneaquarium.com.au 
We will endeavor to get back to all enquiries within 24 hours, Tuesday to Saturday.