Dine Under the Sea
Melbourne's only underwater dining experience is back! Open to guests of all ages, the Private Dining packages include a self-guided tour of the aquarium, a three-course dinner and a two-hour beverage package.
Group Private Dining
Bookings for 5 or more people must be booked under 'Group Private Dining'. Book for 10 or more people and receive 50% off your booking.
*Terms and conditions apply. 
GROUP PRIVATE DINING
45 Minute exclusive after-hours self-guided aquarium tour.
2 hour intimate dining experience.
Selection of breads & olives for starters.
Scrumptious main course (set menu).
Chef's selection of Petit Fours for dessert.
2 hour premium beverage package; including sparkling, white & red wine, beer, soft drinks.
Cocktail on arrival. 
Memorable dining experience in your chosen zone.
Monday-Saturday: 6pm - 8:45pm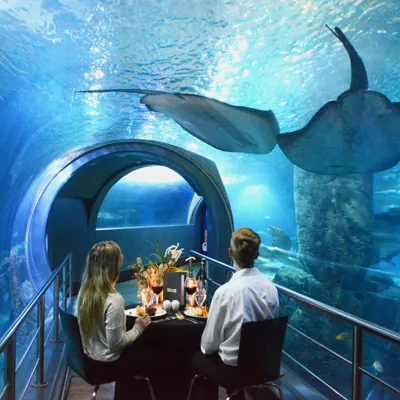 Shark Tunnel
Dine underneath the waves and enjoy the panoramic views of the water above you. Surrounded by sharks, stingrays, sawfish and more; the Shark Tunnel is SEA LIFE Melbourne's premier location for any unforgettable moment.
Mermaid Garden
Immerse yourself in the heart of the Mermaid Garden seated in the centre of a breathtaking panoramic backdrop of majestic sharks, stingrays and thousands of marine creatures - this is the ultimate culinary experience.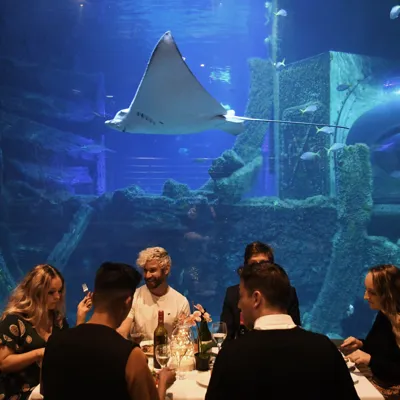 Shipwreck Theatre
Dine in front of the Shipwreck Theatre window that looks into the deepest parts of the Oceanarium, watch in awe as some of the aquarium's largest creatures cruise by.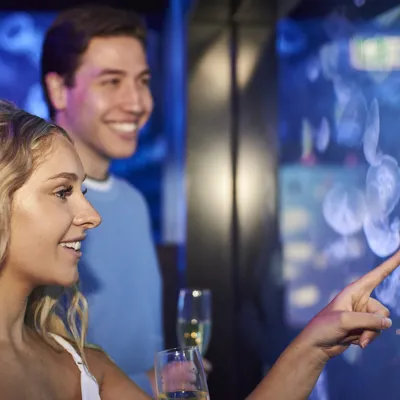 Ocean Invaders Zone
Immerse yourself in Ocean Invaders, the underwater space-like jellyfish exhibit. Sip your luminous cocktail while you watch these mesmerising creatures pulsate their way around you!
If you are interested in this space email experiences@melbourneaquarium.com.au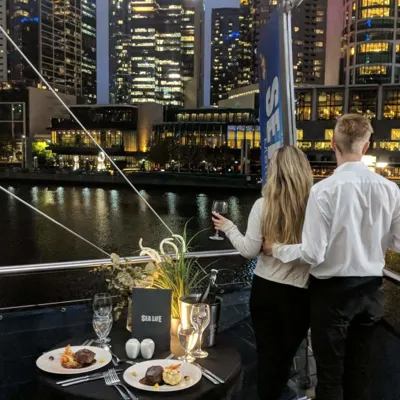 Yarra Vista
Our outdoor dining area on the upper deck boasts spectacular views across the Yarra River and looks at the lights of Melbourne. This entire deck is yours to share with that special someone.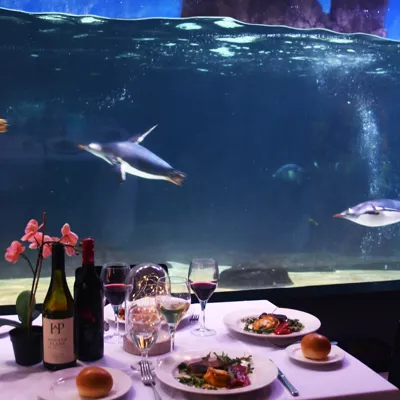 Antarctica
Get up close with our cheeky Gentoo and majestic King Penguins with your dining table centimetres from the ice, here you will be transported to Antarctica for the night! Please note: this location is only available during summer.
Available: November-March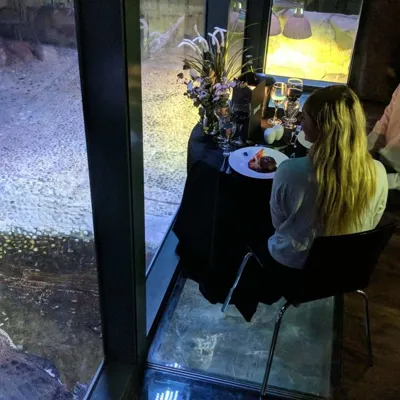 Croc Kingdom
Sit above our five metre Saltwater Crocodile Pinjarra. Within the same area, you will be able to see turtles, snakes, lizards and frogs.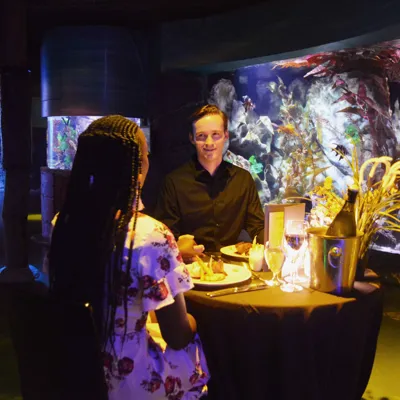 Seahorse Pier
Dine in the cosy environment of the Seahorse Pier with 10 multi-coloured displays for you to marvel at, it is home to the masters of mimicry. The beautiful Weedy Seadragons and Giant Cuttlefish call this romantic zone home.
Please click here to read the full Private Dining Terms and Conditions.
Groups can book out one of the private spaces for an intimate dinner of up to 10 people for a minimum spend of $2,000.
A minimum of 2 people are required to make a reservation. 
External food items or alcohol will not be permitted into the venue or can be arranged for the experience.
SEA LIFE Melbourne reserve the right to change the agreed dining location, or cancel a confirmed booking at any time if there is a force majeure event, or any other event. In the event of cancellation of a confirmed booking by SEA LIFE Melbourne, SEA LIFE Melbourne will refund in full, or reschedule.
Late arrival or failure to attend your allocated time will forfeit your experience & all money paid. Finish times cannot be amended to accommodate for late arrival.
The experience is non-refundable, non-changeable and is not for resale.
Responsible Service of Alcohol applies and unruly behaviour will not be tolerated.