What's included?
Two hour self-guided visit. Please note the Aquarium will also be open to the general public and we are required to adhere to strict occupancy numbers in line with current COVID restrictions. As such there is no access to the building before or after the two hour session and school groups are required to move around the building in small groups of ten, accompanied by a supervising adult. 
Secondary schools can purchase take-away items from our cafe. Please let us know estimated numbers in advance so we can ensure we are prepared to fulfil your groups' orders.
Primary schools groups can order lunch packs for students to eat in small groups in the building. Please order these in advance. 
All students can access the retail store in small, supervised groups of 10.
Price per student = $19.50
Showbags are available for an additional $15 per student. Please request these in advance. 
*Schools only sessions allow full access to all Aquarium exhibits. Please note the retail store, cafe and 4D cinema will not be open on Tue/Wed when closed to the public. Showbags and lunch packs are available upon request.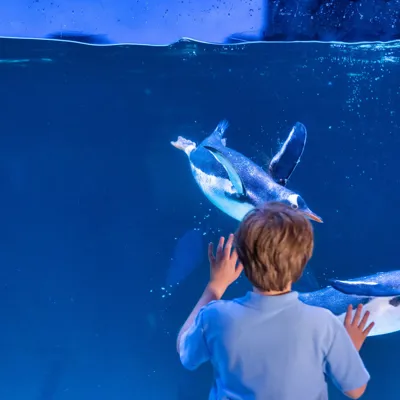 There's so much to explore!
Visit the Penguin playground and watch our cheeky King and Gentoo penguins at play
Experience jellies as you've never seen them before at our new Ocean Invaders exhibit
Journey beneath Port Phillip Bay and watch the rays as they glide overhead
Roll up your sleeves at our interactive rockpool area 
Dare to enter Pinjarra's Crocodile lair and come face-to-face with our resident salty
Plus so much more!
Book Your Self-Guided Tour Now