Abby's Junior Keeper Adventure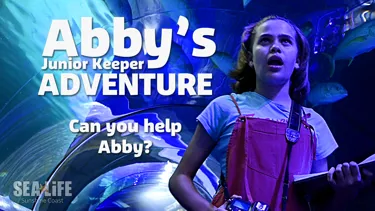 Abby's Junior Keeper Adventure
We are excited to announce the launch of Abby's Junior Keeper Adventure! Join Abby and help her solve Uncle Tony's Riddles.
All you need to do is watch the adventure webisode video and listen to the riddle then come to SEA LIFE Sunshine Coast to see if you can find the animal in the riddle.
If you think you've solved the riddle, take a picture of the animal here at SEA LIFE and post it on our Facebook page with #sealifejuniorkeeper.
The answer to each riddle will be posted on a Monday after each Adventure episode so you have a whole week (sometimes 2) to solve the riddle. There will be 8 riddles to solve over the coming weeks.
Good luck and have fun!
Here are Abby's Junior Keeper Notes:
Dear Journal...I'm so excited! I think I'm finally ready to take the the Junior Keeper Challenge Uncle Tony has made for me. Uncle Tony is one of the aquarists at SEA LIFE Sunshine Coast and knows everything about the sea! I want to show him that I have what it takes to be a "Junior Keeper". I've spent heaps of time reading all the information at SEA LIFE and taken heaps of pictures and notes to help me. I'm going to keep notes of my journey here in this journal as I go. Okay...here goes...time to go find Uncle Tony and see what this Junior Keeper Challenge is all about!
Riddle Number One: 
Uncle Tony can be a little bit weird sometimes don't you think? He's funny though! Here's what he said…
If Junior Keeper be your fate.
You first must solve these riddles eight.
I've ink in stow, but do not write.
I slink and flow, through spaces tight!
Do you know what it is? This amazing creature can be found in the Coastal Wreck zone here at SEA LIFE Sunshine Coast. 
Riddle Number 2:
Uncle Tony made it a bit harder this time:
It may seem like we're cut, all from the same mold.
But some of us are shy and some of us are bold.
And sometimes we shiver, but not from the cold.
This really is tricky!
Here is an extra clue. It was one of the animals pictured on the door at the top of the ramp. So the answer is Penguins, seals, or sharks. Do I go through the door to penguins and seals? Or do I go down the ramp to the sharks in the Ocean Tunnel?
Riddle Number 3: 
Riddle two nearly had me stumped! Luckily, I took Uncle Tony's advice and watched the animals closely for clues. I happened to be looking at the Penguins and saw something!
Some of them were shivering!
Today is a warm day so they weren't shivering from the cold so the answer to that riddle was PENGUINS!
I have a feeling Uncle Tony told me to look closely at the Penguins as an extra clue. Thanks Uncle Tony!
His next clue was quite a long one so I wrote it down:
My namesake breathes fire and flies through the air.
But I live in the weeds and run Daddy daycare.
Move slowly around me, and do not dash!
Take care with your camera, and please...
NO FLASH!
So what breathes fire and flies through the air? Dragons of course! But Dragons aren't real so this animals is named after dragons because they must either look like Dragons or have the word "dragon" in their name. Maybe both?
Also this "dragon" lives in the weeds….Hmmm...Dragon in the weeds?
I think I know this one! I'll give you a hint! It's not far from the touch tank and makes sure you read all the signs on the tanks. You'll find it for sure! Make sure to take a picture and post it on the SEA LIFE Sunshine Coast Facebook page with #sealifejuniorkeeper and you could win a family pass to SEA LIFE Sunshine Coast!