Brand new fun for kids of all ages at SEA LIFE Sunshine Coast!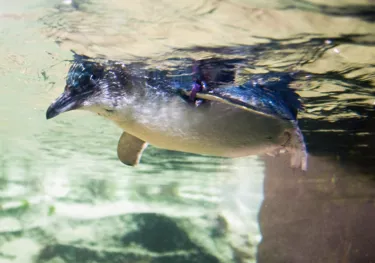 Who said the fun has to stop just because the school holidays are over?
To keep the fun going all year long, SEA LIFE Sunshine Coast has launched two new special products sure to be a hit for any member of the family!  
Penguin Playtime:
If you're looking for something to entertain your little ones during the week, SEA LIFE Sunshine Coast has launched Penguin Playtime, a special program for toddlers and their parents on Mondays, Wednesdays and Fridays.   
Just in case the adorable Little Blue Penguins and playful Seals weren't enough fun, children under three years old are invited to join Penguin Playtime for a fun new experience involving story time and sand play activities at the Mooloolaba attraction.
From 10am – 11:30am, it's story time! Equipped with a range of ocean themed stories, SEA LIFE Sunshine Coast's education team will take toddlers on an underwater journey as they watch the seals swim by from the underwater viewing platform. PLUS floor cushions, rugs, plush and artefacts have been brought in to enhance the space, provide a quiet and relaxing environment for toddlers and encourage them to crawl, learn and engage in interactive play.
For the budding explorers, sand play from 11:45am – 12:15pm kicks off environmentally friendly habits from a young age, with a focus on playtime with a purpose. Bubs are invited to join in a scavenger hunt to dig around the find the golden penguin eggs in the sand pit to keep them safe. Then the test is on to identify recyclable items and dispose of them in the appropriate bin.
Colourful Creatures:
For the older, more inquisitive explorers in the family, SEA LIFE Sunshine Coast has introduced the Colourful Creatures adventure trail!
From now until April, underwater explorers are invited to discover the ocean like never before and create their own adventure storybook based on their encounters and experiences as they learn about the Colourful Creatures that call the Sunshine Coast aquarium home! Waddle up to meet and greet our Little Blue Penguins and discover the way they eat, swim and play! Try and spot the camouflaging Weedy Sea Dragons, draw your own Blue Tang, and be sure to touch a Sea Star and count how many arm it has.
Weave your own tale and bring your storybook to life recounting the sights, smells, textures and emotions, making for the ultimate take home souvenir to always remember their day out!