Colourful Creatures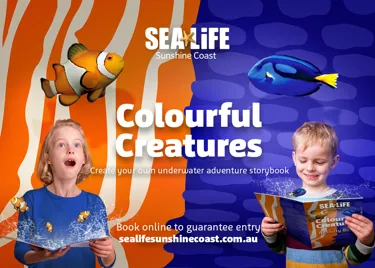 Whether it's counting the spikes on a venomous Lionfish, touching a Sea Star or meeting the newest arrivals in the Little Blue Penguin colony, the whole family is guaranteed to learn a bunch of fascinating facts along the way.
Guests to SEA LIFE Sunshine Coast Aquarium will enjoy the kaleidoscope of colours as they venture through the aquarium's 11 immersive zones encountering a myriad of marine creatures including two new little blue penguin chicks, huge sharks, sea jellies, tropical fish, and more.
Upon entry, kids will receive a free activity booklet to create their very own underwater adventure storybook, as they journey along the Colourful Creatures adventure trail which will keep them entertained with a range of fun and interactive activities.
The Colourful Creatures adventure trail starts on Monday 1 August and runs until Friday 16 September 2022.