SEA LIFE Trust Global Beach Clean Up
Tuesday 6th July 2021
conservation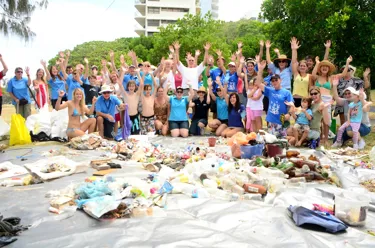 Locals are encouraged to lend a hand to help make a positive impact on the environment by removing waste that can be harmful to marine life.
SEA LIFE Sunshine Coast will host a Mooloolaba Beach clean as part of the SEA LIFE Trust Global Beach Clean. The SEA LIFE Trust is global marine conservation charity and clean-ups will be taking place in conjunction with SEA LIFE Aquariums around the world throughout July. Volunteers are asked to meet at SEA LIFE Sunshine Coast at 7am and participants are invited to take part in a FREE beach yoga session with Zenko Yoga!
Participants at both clean up events are asked to BYO gloves.
Not only is the litter washing up on local shores an unpleasant sight; it also harms and kills marine wildlife. According to Ocean Crusaders, it is believed there are 5.25 trillion pieces of plastic debris in our oceans causing over 100,000 marine mammals to die globally each year. Turtles, whales, dolphins, sea lions and sea birds are particularly susceptible to plastic pollution.
EVENT DETAILS: SEA LIFE Trust Global Beach Clean
When: Sunday 11 July 2021
Where: Meet out the front of SEA LIFE Sunshine Coast before heading to Mooloolaba Beach
Hours: 7:00-7:45am free beach yoga session with Zenko Yoga, 8:00-10:00am beach clean
More information: Register on arrival & BYO gloves.