Join SEA LIFE Sunshine Coast's beach clean on 'humpback highway'
Friday 2nd June 2023
sea life trust, conservation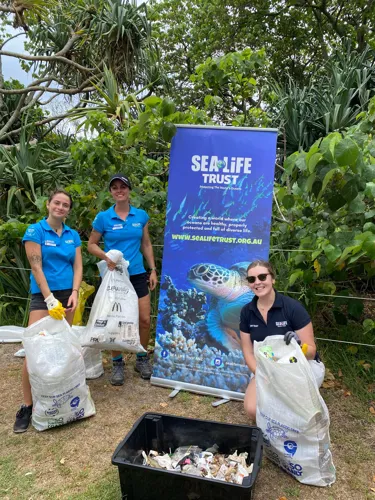 SEA LIFE Sunshine Coast Aquarium is hosting its annual SEA LIFE TRUST Global Beach Clean with this weekend in line with world oceans day and the inaugural Mooloolaba whale welcoming weekend.
Locals and visitors are encouraged to join hands to make a positive impact on the environment and protect our delicate marine environments from the plague of plastics. The beach clean on Mooloolaba beach will run from 10am-12pm as part of the exciting 'whale welcoming weekend'. Working closely with Visit Sunshine Coast and other local businesses the hope is to create a milestone event that will become a tradition for years to come.
The fun begins at The Wharf with the bell tolling to announce the start of whale season, an onsite broadcast with Hot 91 FM from 10am to 1pm, Whale Tail paddle formation by the Mooloolaba Surf Lifesaving Club Paddlers, fun prizes and giveaways, specially-brewed Blackflag Whale Pale Ale for sale plus free entry for kids at SEA LIFE Sunshine Coast.
Quinn Clarke, General Manager at SEA LIFE Sunshine Coast said "With more than 22,000 humpbacks expected to pass by the Sunshine Coast during this year's migration, the SEA LIFE TRUST global beach clean couldn't have come at a more significant time. This is the perfect opportunity to highlight the impact pollution is having on our oceans and get the community involved in making a real difference."
Graham McGrath, Director at the SEA LIFE TRUST, said "It's more important than ever that we work together to help protect our world's oceans, which are the engines of our climate and produce half of the air we need to breathe. By looking after our seas, we're looking after ourselves and our children's futures – not forgetting all the marine life within it.
"With each person around the world who joins this terrific event and makes one small drop in the ocean, together we all make a giant wave of positive change!" 
Event Details:
What: SEA LIFE TRUST Global Beach Clean
When: 10 June 10am-12pm
Where: Mooloolaba beach
Opening hours: Click here