Best Secret Swimming Spots in the Sunshine Coast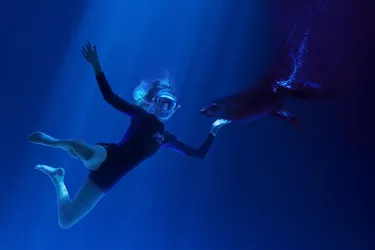 From a wild river to swimming with animals, get off the beaten Sunny Coast track for a dip with a difference. Do yourself a favour and venture to one or all of these tucked-away swimming spots.
Seal Island
For a truly unique swimming experience, you can swim with seals at the amazing underwater world of SEA LIFE Sunshine Coast. It's not your traditional kind of swimming hole, but here, you can get up close to our resident seals. Swim with and learn more about these delightful animals. There's nothing quite like being underwater with a beautiful, full-of-beans seal as they turn and tumble effortlessly, ever curious about their human playmates. As part of your experience, take home a souvenir photo, so you can share your seal swim with your friends and frame a snapshot of your underwater frolic. For those 13+, this is an unforgettable marine encounter.
Serenity Falls
Leave the hustle-bustle and the heat behind, and head out of town to the cool forest. Not too far from all the action, Buderim Forest Park has a walking track that will take you to Serenity Falls. Like name, like nature; these falls cascade into a stunning swimming hole, amidst the tranquillity of the trees. If you want a quick and easy walk, park at Quorn Cl, Buderim. If you're keen to take a long way around, you can follow the creek to this magic swimming hole.
Gardners Falls
For another treasure in the hinterlands are these gorgeous falls, not far from Maleny. As one of the most noteworthy swimming spots on the Sunny Coast, if you're a keen water-lover, visit this freshwater pool on Obi Obi Creek. For the daredevils, there are rocks to jump off, as well as rope swings to Tarzan into the water. If summer is the season, you won't be alone at this popular spot; park at the end of Obi Lane South where you can find the walking track.
Harry's Hut
In the Noosa Everglades, you can drive your car, or paddle via kayak or canoe to this watery wonderland. Because it's not widely known, you're pretty much guaranteed to be making a splash without the crowds. Located on the Upper Noosa River, north of Lake Cootharaba, this hidden swimming hole is a stellar spot. Lie on your back and take in the big sky while enjoying the peace and quiet.
Conservation Conscious
Play your part in ensuring these incredible swimming holes remain the havens they are. Remember, as a visitor to these environments – take your rubbish with you, and don't release balloons as they can suffocate turtles and whales. While you're in the water, don't use any soap or toxic products, and as eager as you are – swim and see, don't touch
the creatures you come across.
Plastic Stats
When you visit these heavenly swimming holes, bear in mind the shelf life of some of your single-use items. A single plastic bag takes between 10-20 years to disintegrate, while an aluminium can takes 80-100 years to decompose. And as for that plastic bottle in your bag – it will never break down.