New Penguin Encounter coming to SEA LIFE Sunshine Coast
Wednesday 20th January 2021
Little Blue Penguins, Penguin Encounter, Penguin Feeding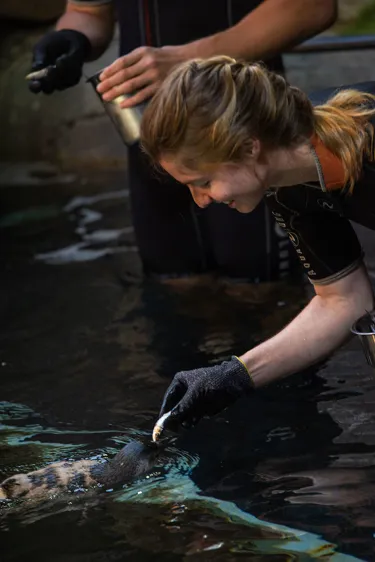 SEA LIFE Sunshine Coast Aquarium is celebrating Penguin Awareness Day by announcing the launch of a second Penguin Encounter, which will be available starting February 2021!
The new experience will give you the opportunity to stand in the water and hand feed the Little Blue Penguins while they swim around your legs! Guests will stand on a platform submerged in the penguins' pool as they feed the birds.
The new In-Water Penguin Encounter is available for guests aged 13+ and includes a behind the scenes tour of the penguin zone so guests can discover how the team cares for these adorable creatures and learn how to help protect the species in the wild.
"Penguin Awareness Day is the perfect opportunity to announce the launch of our brand new In-Water Penguin Encounter, which will give our guests the opportunity to get even closer to the Little Blue Penguins while they do what they do best! Guests will be right in the action as the penguins swim, splash, dive and eat in the water, which is where they spend most of their day," said Carla Haskell, Mammals Manager at SEA LIFE Sunshine Coast.
"Guests will be able to meet some of the wonderful birds here including Ash the rescue penguin. Ash has been with us for almost a year after she was found waddling along Currimundi Beach in February 2020 suffering from malnutrition, feather damage and foot injuries. The presence of a little penguin on the Coast was a bit of a surprise as this species is native to the coastlines of Australia's southern states. We are very happy to report that Ash's health has improved dramatically over the last 12 months – she has grown new feathers, displayed mating behaviours and integrated well with the other birds. We are happy that Ash will be staying with us here at SEA LIFE Sunshine Coast for the foreseeable future."
The new In-Water Penguin Encounter costs $124 per person (including admission) and will launch in February.
The original Penguin Encounter, which allows guests to hand feed the penguins on the sand rather than in the water, is still available to guests aged 5+. This experience costs $104 per person (including admission). There is a dedicated photographer to perfectly capture guests' experience with the penguins during both encounters.
All visitors to SEA LIFE Sunshine Coast must pre-book their tickets online in advance.
Please click here for opening hours and health and safety information.