Fun Facts about Little Blue Penguins!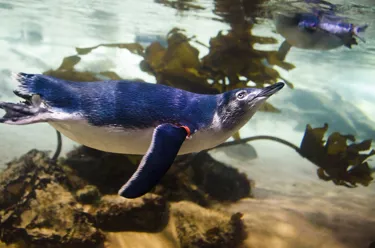 Also known as Fairy penguins, blue penguins, and Little Blue Penguins, this species is the smallest of all penguins. Learn some fun facts about them right here, and watch our video below from the Live Stream Penguin Feed. 
A fully developed adult can weigh only 2.6 lb.
They have a fragile and delicate appearance highlighted by a bluish color unique among

 all species of penguins

.
Chicks have a brown and white plumage that turns to the blue color that characterizes adults after their first molt.
Little penguins largest colonies are in Oamaru, Chatham Island and Banks Peninsula in New Zealand, as well as Phillip Island in Australia and along the coast of Tasmania, around the entire coastline of New Zealand and most of the southern coast of Australia.
Their natural habitat consists of trees, rocky shores, and edgy lands, still reachable by humans.
Little blue penguins are mainly nocturnal as they perform most of their activity during the night creating small groups of about ten members or less.
They are not migratory and stay close to their colonies most of the time.
Unlike larger species, they can dive only to a depth of 230 feet for approximately 35 seconds.